Ordering Paper with Poynt
For a full database of help articles/videos, please visit Poynt directly at:
Poynt Support
The Poynt Smart Terminal, equipped with a built-in printer, utilizes thermal printer paper to print receipts and Settlement reports. Thermal printers do not utilize ink, so that won't require any replacement. You will, however, need to order receipt paper rolls to continue to print paper receipts.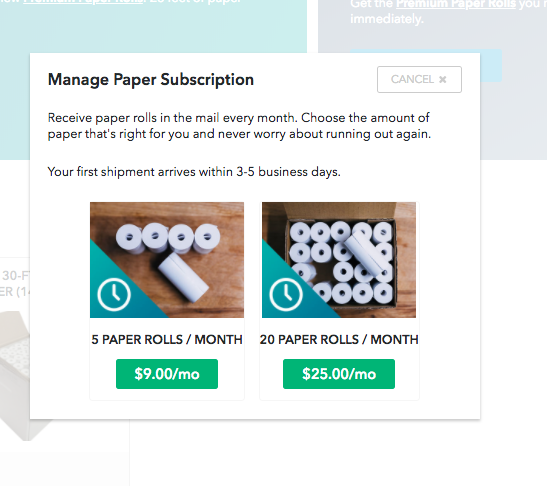 Purchasing Paper Rolls Online
Purchasing receipt paper rolls for your Poynt Smart Terminal is easiest done online using your Merchant HQ portal.
Step 1:  Log in to your Merchant HQ (Poynt.net) and select the Store tab along the top.
Step 2: Enter your billing and shipping information in the grey box to the right to enable any orders you may place.
Step 3: Select to either Subscribe or Order to receive paper rolls. A subscription will schedule regular monthly deliveries of paper rolls to the Shipping Address on file. Using the Order option will send a one-time shipment of the quantity you request to the Shipping Address on file.

Order Paper directly through your Device
Alternately, you can order paper right through your Poynt Smart Terminal. You'll see that you have a Paper app on the homescreen of your device.
Step 1: Click the "Paper" app icon on the homescreen
Step 2: Select how many rolls you'd like to subscribe to, and enter your payment information
Step 3: Click "Subscribe" – that's it! Paper will now be automatically shipped out monthly.