Top Reasons Our Merchants Pick Us
Dharma provides you both fair terms and the tools you need to accept payments with ease.
Why Dharma?
Transparency & Low Pricing –
No secrets, surprises or deception here. The code word is transparency on all fronts. Our job is to explain the mysterious world of payment processing, how Interchange Pricing works, give you concrete examples and educate you on various topics via our Knowledge Base. Our prices are fully posted and very competitive. This is how Dharma is different than the competition.
Upon request, we can provide a full-disclosure rate comparison that highlights the savings Dharma can offer. We'll share our assumptions, and we'll even tell you if our rates are not the most competitive. We'll point you in the right direction regardless of how it impacts us. You can count on:
Posted pricing & terms and full-disclosure on policies.
Low & fair fixed rates.
No early termination fees, and we ensure you we only pass through industry rate increases.
We won't lead you on with false promises such as "free terminal" and then make up for it in higher rates, onerous long term commitments, leasing fees, etc.
Speedy & Easy Startup –
Moving forward with opening a Dharma account is very simple. Application submission-to-approval generally takes about two days. While we can't guarantee a next-day turnaround, we can guarantee that we'll work with you to meet your needs as quickly as possible.
Unsurpassed Customer Service –
Call us, and real people answer the phones. We're authentic, we care, and we're trained. As a small business you'll know us on a first-name basis, and we'll take your concern, issue or problem through to resolution.
We recognize how payment processing issues affect your business in real-time, and the urgency that can be felt. Also, we do not have commissionable salespeople, so there is no incentive to treat one referral differently than another, or give priority to one account over another.
Lower-Priced & Current Equipment –
You'll get lower- and fairly-priced equipment rates with us. Some providers give equipment away for "free", but charge high rates to more than make up the difference. No surprises here – we have incredibly fair pricing, which is fully posted (and interest-free payment plans over three months).
We'll fully test and download your equipment. Most importantly, our equipment is "future-proofed" meaning it won't be obsolete in six months. (Other providers commonly sell older terminals – that won't work in a year – so they can deplete their inventory.)
Sustainable Practices –
Even though Dharma doesn't manufacture a product, we can still make a huge difference in our environmental impact by operating with conscious choices, individually, and as a company.
Whenever possible, we choose local, sustainable, socially-responsible, women- or minority-owned vendors and suppliers. We are also mission-aligned with most of our business partners, from the banks we choose to work with, to our shipping policies.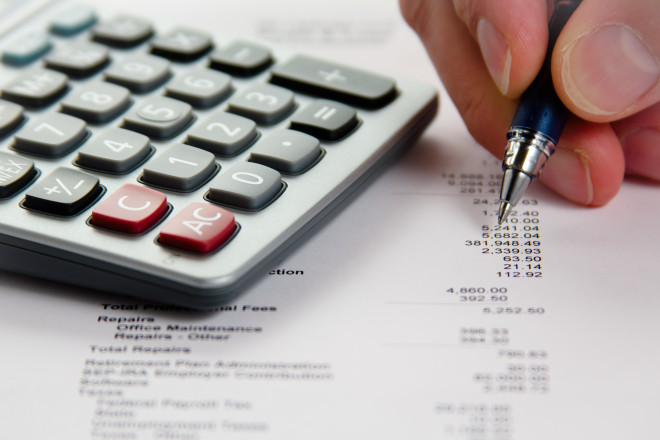 No long term agreements
All Dharma agreements are month-to-month agreements with no early termination fees and no long-term commitments. While we would love for you to partner with us forever, we understand business needs may change. When you sign up for a new account with Dharma, you're free to exit our relationship at any point in time, for any reason. There is no closure fee for permanent account closures, and no closure/re-activation fees for seasonal merchants. That means that if you have an annual event or seasonal processing, you won't have to worry about getting locked into a long-term agreement with a hefty early-termination fee when closing your account
One- or Two-Day Funding
Dharma has 2-business day funding guaranteed for all merchants. For most merchants, this funding process means that if you accept $1,000 in payments on a Monday and submit those transactions to us by 9pm Eastern time, you'll see $1,000 deposited into your bank account by Wednesday, 2 days later.
If you're a retail, card-present merchant Dharma can typically offer next-day funding. Next-day funding availability is determined by our underwriters when reviewing your application materials. Although it can't be guaranteed, next-day funding is typically granted for card-present merchants.
Get a free consultation from Dharma
Tell us how to contact you, and a little about your business, and we'll be happy to give you a free evaluation of your fees, and let you know how you can save with Dharma
What's Included in a new Dharma account?
All accounts come with access to a complete set of tools to help you take and manage credit & debit card payments: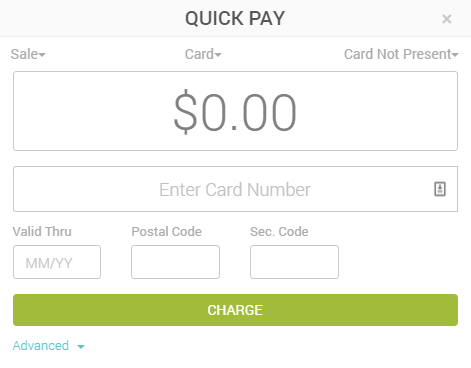 Virtual Terminal
Need to run a sale? We makes it easy. Right from the home screen of our merchant portal, you'll see a "Quick Pay" button. Just like it sounds – take a payment, quickly. Simply enter the credit card number, expiration date, and address information – and you're all set for an instant approval. A receipt will automatically generate for you to share with your customer. Learn more about the Virtual Terminal.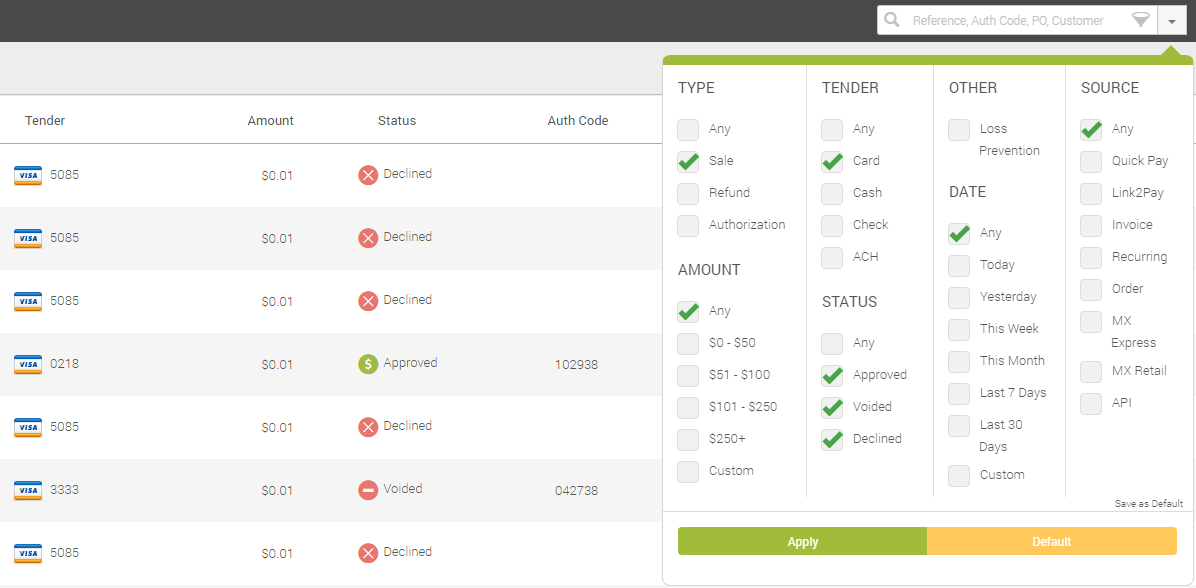 Online Reporting
You'll have access to every detail you need with our reporting. Pre-built reports/filters make it easy to find the data you need quickly. Built-in, you'll have access to: Deposit reports, Customer reports, Payments reports, and Transaction reports. All reports have pre-built filters, so you can adjust the parameters of the report on the fly, with just a click. Learn more about Online Reporting.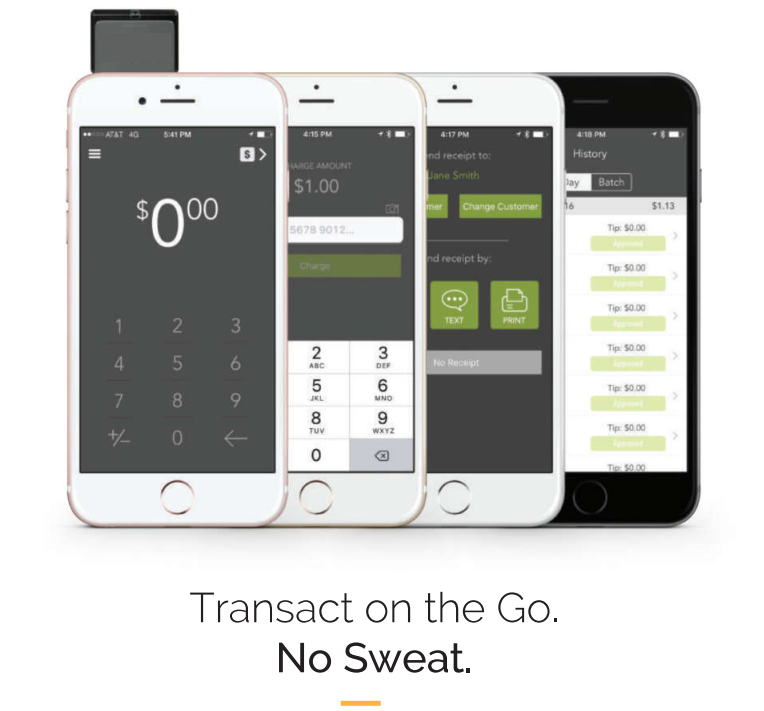 Mobile (iOS / Android) Processing
Dharma offers a free mobile app for download in the Apple App store or Google Play store. It's designed to be simple, and most importantly – quick. Transactions process seamlessly whether keying, swiping, or dipping a credit card. The app offers: tip settings, signature settings, access to saved customer payment information, the ability to capture notes, email / text receipts to your customer, and see your transaction history. Transactions process seamlessly whether keying, swiping, or dipping a credit card into the available mobile EMV swiper. Learn more about Mobile Processing.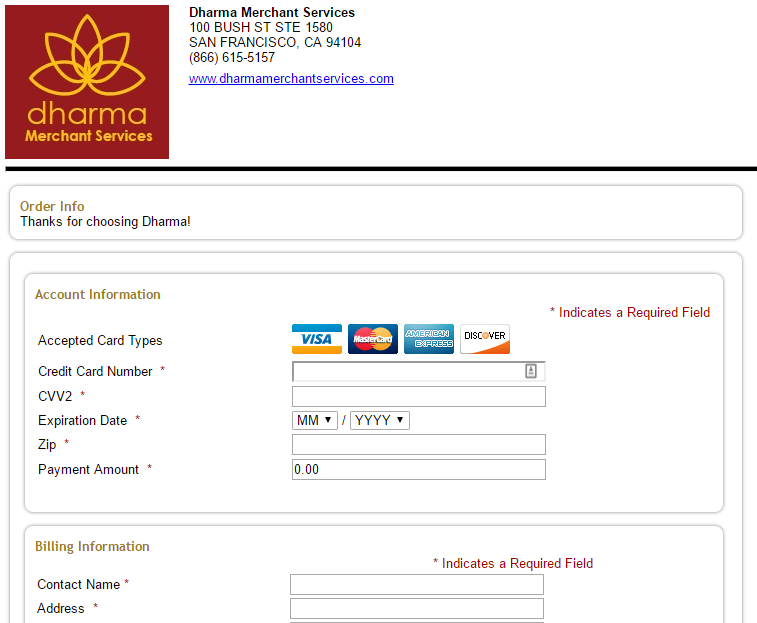 Online Payment Links
Need to add a quick "Pay Now" or "Donate Now" button to your website? With Dharma, it takes only a few clicks to create a quick-payment link so that your customers can send you payments. Payment Links are easy to setup, and you can have as many of them as you'd like. You can use standard fields or add custom fields of your own to capture just the data you need. And of course, they are safe, secure, and PCI Compliant. Learn more about Payment Links.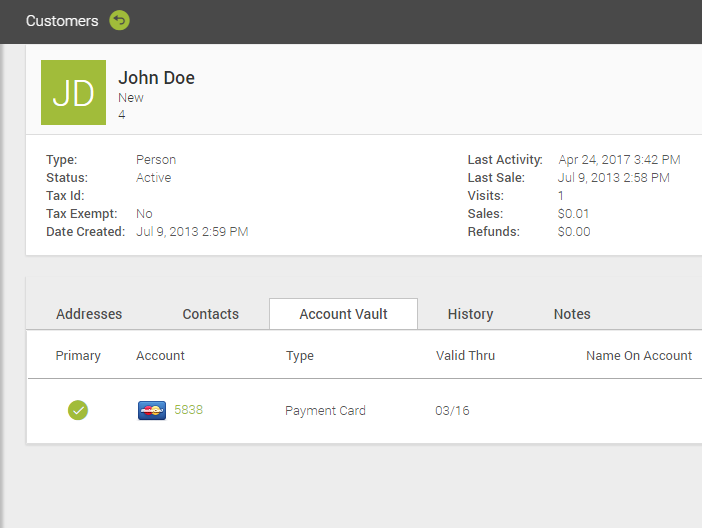 Customer Database with Credit Card Storage
No need to fumble for receipts, or thumb through dusty files to find the information you need. Dharma includes a robust Customer Database, which allows you to permanently and securely store detailed customer information. You can store an unlimited number of customers, save multiple cards per customer, store historical payment records, keep multiple addresses, and store your own data in custom fields. Learn more about the Customer Database.
What our clients say about Dharma