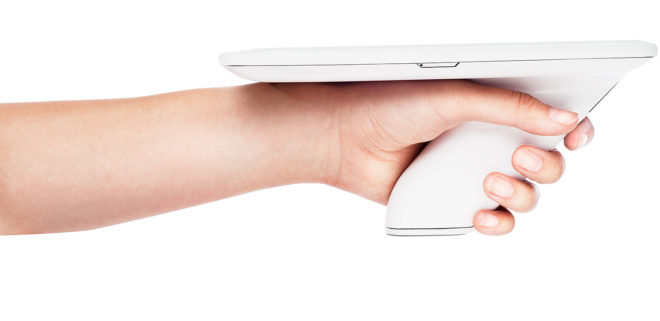 Clover Mobile - take sales anywhere
Clover Mobile allows your business to take credit cards in any environment. With Clover Mobile, you get a hand-held device that you can carry with you throughout your establishment, or accept "pay at the table" payments. Merchants love having all sales data in one easy-to-manage location. Get access to upper-level features, like:
Adjust tips by requesting tips "on-screen" prior to the sale completing, or you can request tips on a printed receipt and adjust at the end of the day.
Real-time inventory.
Employee permissions/roles.
Easy-to-create reporting with detailed breakdowns.
Touch screen with front-facing camera.
Internal barcode scanner built-in.
Connects via WiFi or 3G (3G data carries a monthly fee of $15).
Learn all about Clover Mobile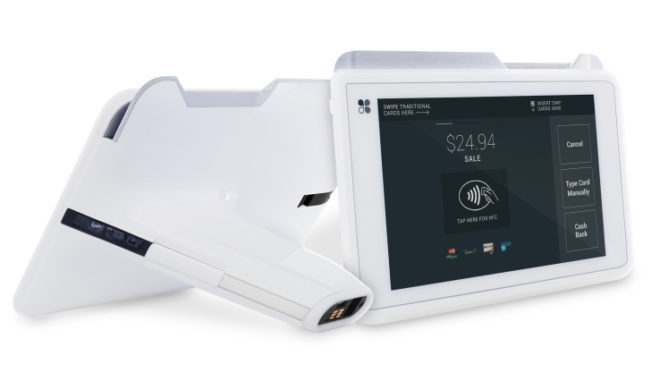 All-day Mobility
The Clover Mobile is crafted with brushed aluminum, and contains a heavy-duty battery that lasts all day on a single charge. With a built-in handle, the Clover Mobile rests easily in your hand. Included in the handle is a Barcode-scanner for easy scanning of products. PIN-codes are entered directly onto the touchscreen by your customers for quick processing.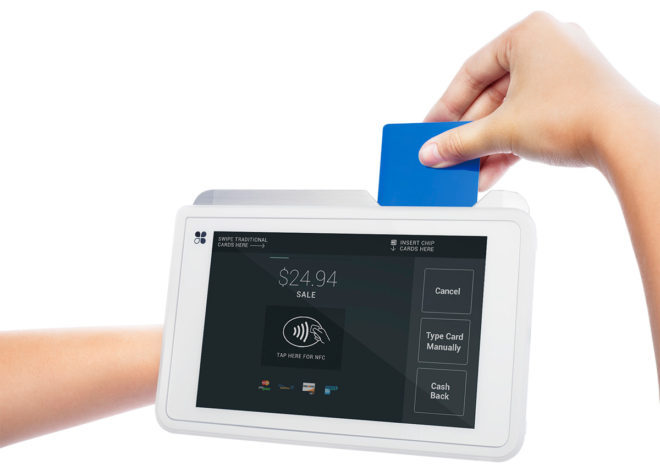 Accept Every Card Type
You name it, Clover Mobile can accept it. There is no card type the Clover can't handle! EMV (chip cards), Chip+PIN, Apple Pay, EBT (food stamp cards), and even the regular 'ole magnetic swipe cards … you can process everything with Clover. In addition, restaurant/bar merchants can adjust EMV sales for tips, which is something most POS systems can't handle yet.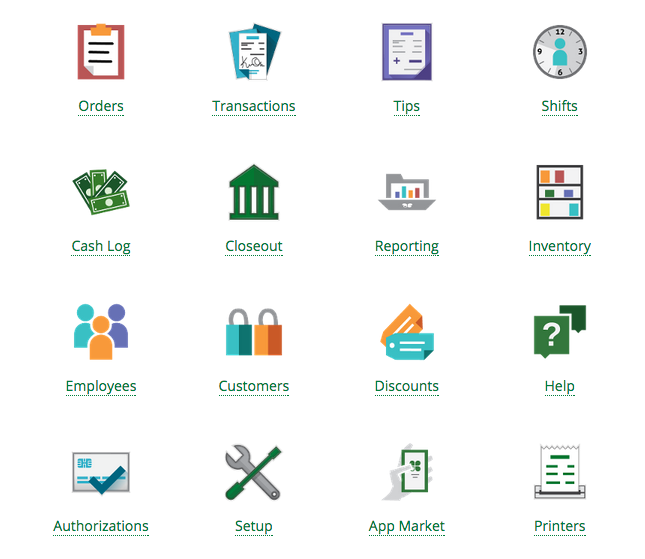 Manage and Track Inventory
Get real-time inventory reporting, so that you can stay on top of your business. Easily create inventory items, assign quantities, prices, and variants to different items. You can even apply specific taxes/discounts to certain inventory items, or categories of items. Plus, every action you take on Clover is available to manage through an online interface.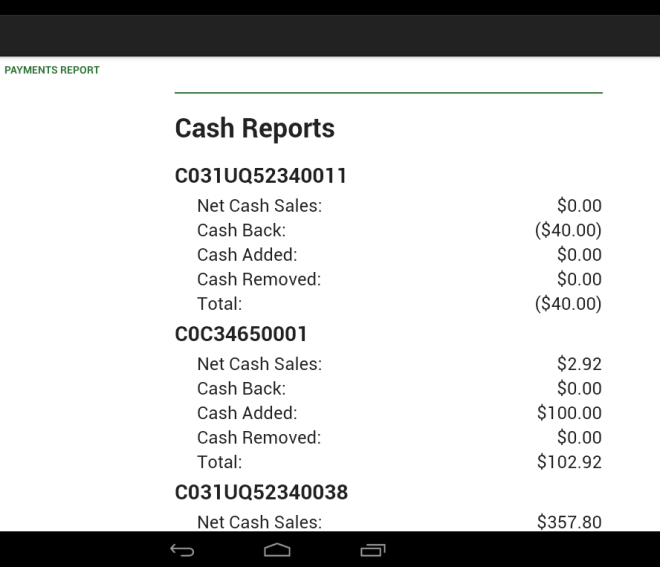 Detailed, Easy Reporting
Cloud-based reporting lets you manage your business from anywhere in the world. Get detailed insights that print out directly from the POS itself, or access upper-level reports from the web interface. Easily export data to an excel file, and manage past orders/sales with ease. No more fishing around for old receipts or digging through bank statements, Clover makes it easy.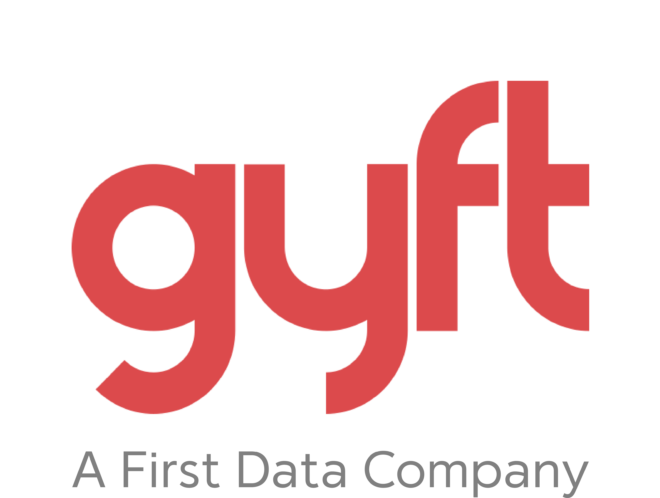 Gift Cards through Gyft
Gift cards have never been easier! Clover uses Gyft, so you can sign-up for gift cards from within your Clover system, and it only takes a few minutes. Fees are simple – just pay $0.05 for every $2 of transactional value. You can order new cards/accessories directly from Clover without ever leaving the screen.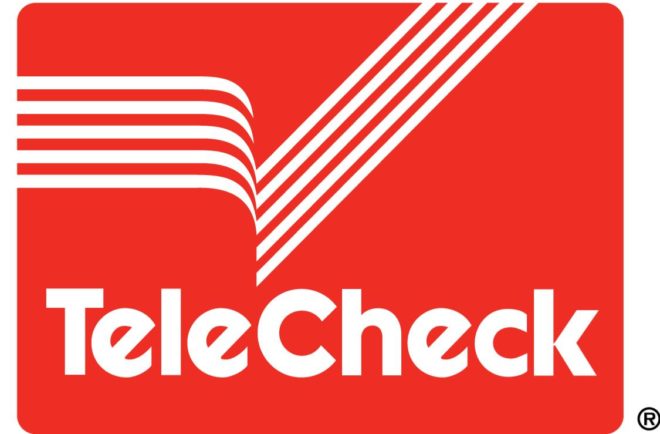 Check Acceptance through Telecheck
Check acceptance is super simple with Clover. Easily setup a check-acceptance account through Telecheck, with great low rates of only 1.50% and $0.20/transaction. No monthly fees! Use Clover's built-in camera to scan the check and get paid like any other transaction. Easy! Read more about Telecheck terms/conditions here.
How Much Does Clover Cost?
Clover Mobile is remarkably affordable considering the full feature set, starting at only $649/device and $10/month in addition to Dharma's standard processing fees.
 

Clover Mobile Costs

Clover Mobile

$649
(Includes 7″ touchscreen device. Printer/Dock NOT included)

Clover Monthly Fee

Either $0.00, $9.95, or $29.95 (see Register pricing)
(Cost is per/device)

Transarmor Monthly Fee

$10/month/account
(Only 1 Transarmor fee applies, regardless of how many Clover devices you have)

Bluetooth Printer

$199 
(optional)

Charging Dock

$129
(optional)

Cash Drawer

$99
(optional – cash drawer is manual-use only with Mobile)

Mobile Bundle!

$849
(Includes 1 Clover Mobile, 1 Bluetooth Printer, and 1 Mobile Dock. Save $128!)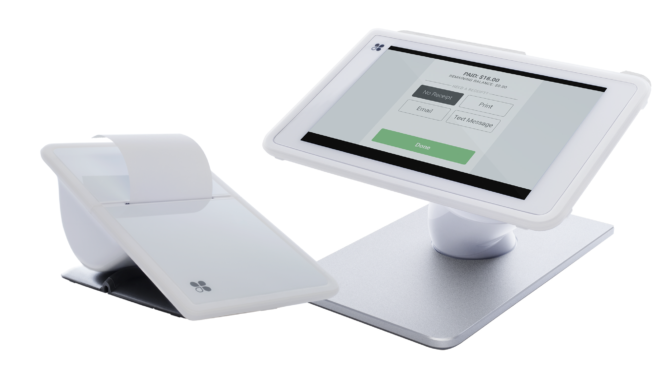 Mobile Bundle - Only $849!
Since Clover Mobile doesn't have a built-in printer, many merchants will want to purchase the optional bluetooth printer. And, many merchants wish to purchase the mobile dock as well, as it provides the convenience of quick-charging, and you can easily mount the dock to your counter/wall-space. Dharma has reduced hardware pricing for merchants who purchase the Mobile bundle!
Get everything you need!
Includes (1) Clover Mobile device (normally $649)
Includes (1) Mobile Bluetooth Printer (normally $199)
Includes (1) Mobile Dock  (normally $129)
Only $849! Save $128 compared to purchasing separately!
Looking for info about other Clover products?
Clover Service Monthly Pricing
With Clover, you get to decide with monthly plan makes the most sense for you. If you're a "basic" user, you can likely get everything you need out of the Payments Plus plan. If you need inventory tracking, you'll likely want Register Lite. Any merchants sending orders to a kitchen will be required to purchase the Register plan.
Click here to view pricing/features on Clover's site
Payments Plus

Register Lite

Register

TransArmor Fee

$10.00/month
$10.00/month
$10.00/month

Clover Fee

None!
$9.95/month
$29.95/month

Accept

all

forms of Payment

Yes
(Credit, PIN-debit, EBT, Apple-Pay)
Yes
(Credit, PIN-debit, EBT, Apple-Pay)
Yes
(Credit, PIN-debit, EBT, Apple-Pay)
Yes
Yes
Yes

Customer Engagement

Yes
(rewards, gift cards)
Yes
(rewards, gift cards)
Yes
(rewards, gift cards)
No
Basic
(Simple items, track stock)
Enhanced
(Modifiers/Variants, track costs)
No
Basic
(Create/refund orders, item categories, order notes)
Enhanced
(Order Types, Combine multiple orders)

Additional Features

Open Tabs, Rewards, Limited App Market usage
Use customer-facing display, item-level taxes, item-level Rewards, more extensive App Market usage
Kitchen Printing, Weight Scale support, full App Market usage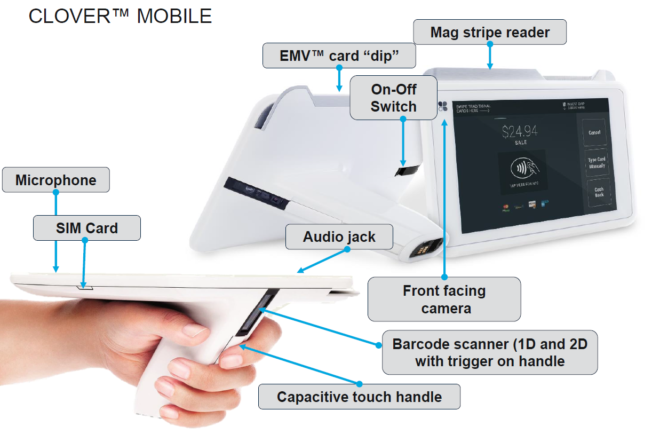 What's the Setup Process like?
Setting up Clover is easy. Watch a video of how it works here. The basic steps are:
Dharma sets up Clover in the background, linking your new Dharma account with Clover.
We'll order/ship your Clover POS devices to arrive at your door, ready to use.
Turn on the Clover Mobile, and after connecting to the internet, Clover will quickly check for software updates, which takes about 10 minutes.
After completing updates, Clover is ready to go! Your business information will already be programmed into the unit, and you'll be ready to process sales same-day.
You can easily set your Clover POS device to be customized to your specific industry and needs. Learn more here about how Clover can be customized for your particular needs.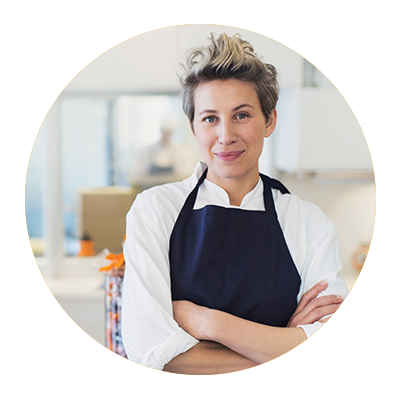 What Support does Clover Provide?
Clover POS is not only easy-to-use, but it's easy to get assistance and help, too, with an extensive knowledge base and "How-To" section.
24-hour dedicated phone support, just for the Clover system. The support number is accessible directly through the Clover Device's home screen, so it's easy to find.
Access help files/videos directly from your Clover device.
If you ever have a hardware issue, you can always take payments on Clover Go through your smartphone or tablet.