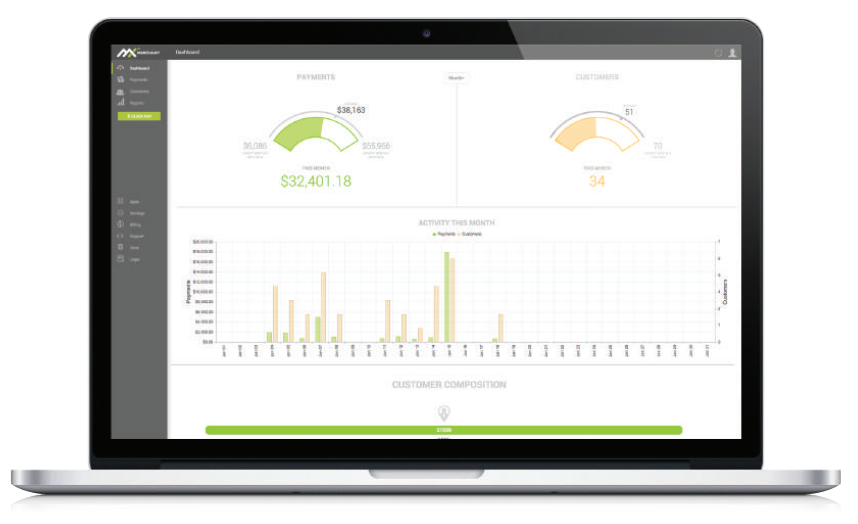 Everything you need in one place
Built into all Dharma accounts is free access to MX Merchant, where you can manage the entire payment process from one login:
Click and Learn more about MX Merchant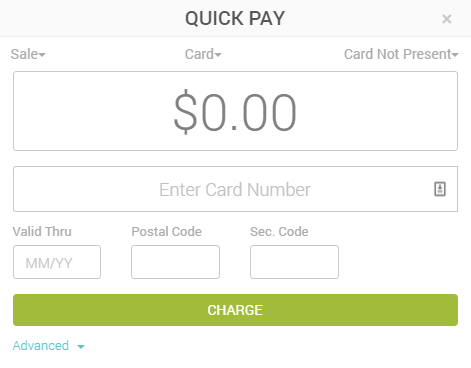 Quick Payments
Need to run a sale? MX makes it easy. Right from the homescreen, you'll see a "Quick Pay" button. Just like it sounds – take a payment, quickly. Simply enter the credit card number, expiration date, and address information – and you're all set for an instant approval. A receipt will automatically generate for you to share with your customer.
At your discretion, you can associate a payment with a pre-defined customer, add a memo/note, or assign a PO/Invoice number. You can even access an existing customer's credit card info, right from the Quick Pay screen. MX makes it easy to enter a sale in mere seconds.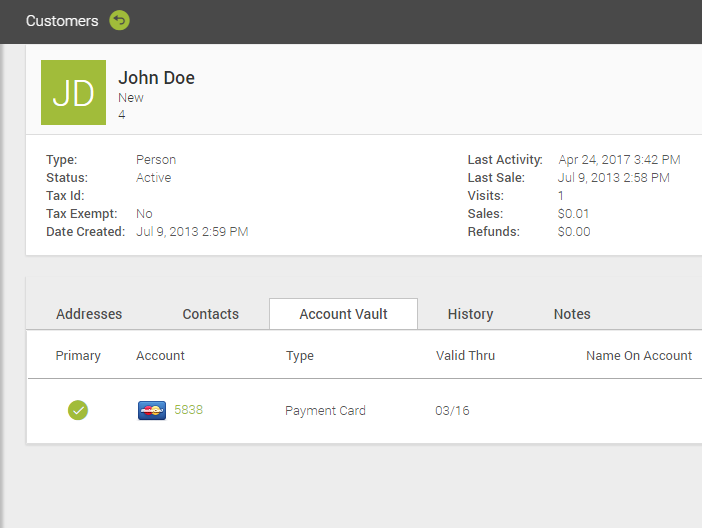 Customer Database
No need to fumble for receipts, or thumb through dusty files to find the information you need. MX includes a robust Customer Database, which allows you to permanently store detailed customer information, for easy reference. With the Customer Database, you can:
Store an unlimited amount of customers, and categorize them as "business" or "personal".
Save multiple payments per customer – so each customer can have several credit cards saved on file.
Easily start a payment from the customer screen, to charge a card on file.
Store historical payment records on a per-customer basis, so you can quickly locate past charges.
Store multiple addresses, emails, and phone numbers per customer.
Keep historical notes, to keep your staff in the loop about unique customers.
Create "custom" fields, to store any data you'd like – such as birthdays, preferences, etc.
Quickly see the number of visits per customer, and easily create "spend profiles" to analyze your customer's behavior.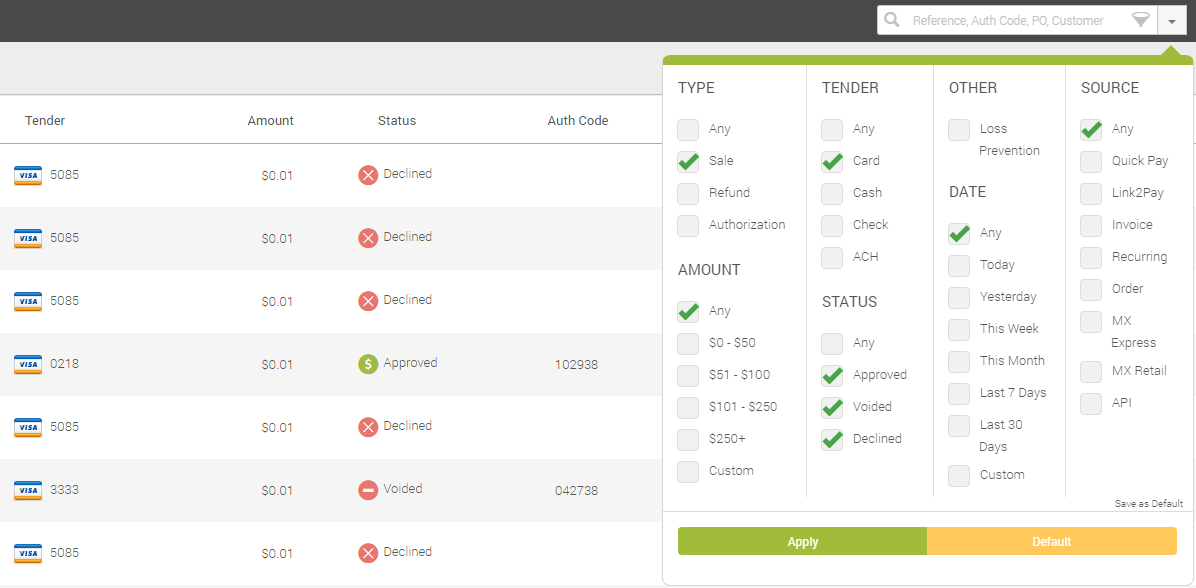 Robust Reporting
You'll have access to every detail you need with MX Reporting. Pre-built reports/filters make it easy to find the data you need, in a jiffy. Built-in, you'll have access to:
Deposit reports, to quickly see exactly what was funded to your bank account.
Customer reports, to view details on a specific customer, or a subset of customers you're interested in.
Payments reports, to easily filter down for any given time period, user, or amount type to quickly locate the sale in question.
Transaction reports let you view detailed transactional data, such as authorization codes, loss prevention details, history of the card, and more.
All reports have pre-built filters, so you can adjust the parameters of the report on the fly, with just a click. The MX system is intuitive and easy to navigate, so you get the data you need without any frustration.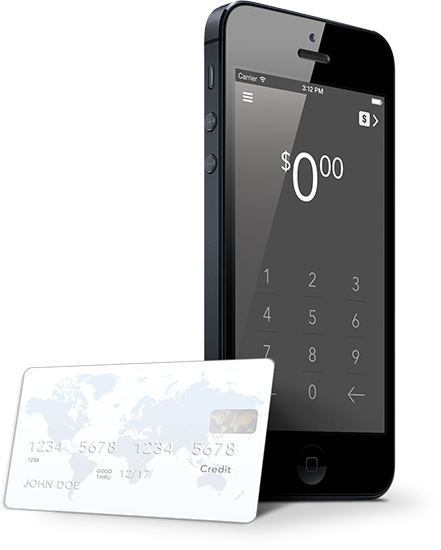 Apple/Android Mobile Processing
All Dharma accounts get access to MX Merchant Express so that you can accept mobile payments anywhere you have an internet connection. MX Merchant Express allows you to:
Use Apple or Android devices to accept keyed transactions.
Email/text custom receipts with your company logo.
Charge your customer's stored credit card data right from the app!
Receive customer signatures right on your device.
Access past transactions, adjust for tips, and reprint receipts.
Seamlessly integrate with MX on your computer – all transactions sync up.
Great for use as a back-up. If your internet/power goes down, you can still take sales!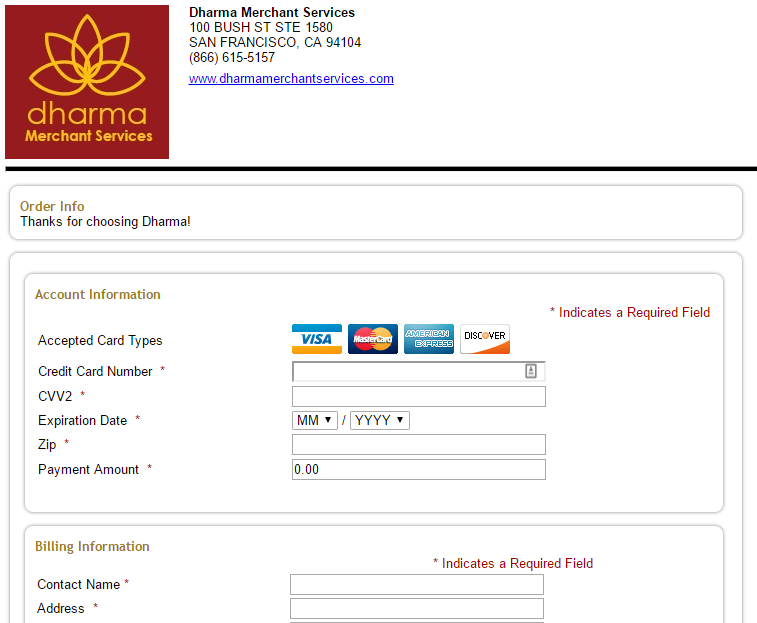 Online Payment Links
Need to add a quick "Pay Now" or "Donate Now" button to your website? With MX Merchant, it takes only a few clicks to create a quick-payment link so that your customers can send you payments. Payment Links are easy to setup, and have the following features:
Create as many payment links as you'd like, and easily manage them.
Create "Custom Fields" to include on your payment link – that way, you can require your customers to include specific information. You can create different types of fields – drop-down selections, yes/no questions, text, or numbers.
Links can be shared via URL, or easily inserted into your website with HTML code. MX populates this information automatically, so it's easy to understand.
Customers will be directed to a secure payment page to input their credit card information, and will receive a receipt for their transaction. The receipt will include your logo, business information, and details of their order.
All payment links are hosted securely by MX, so you don't have to worry about complicated SSL certificates or web-development. Payment links are "plug and play!"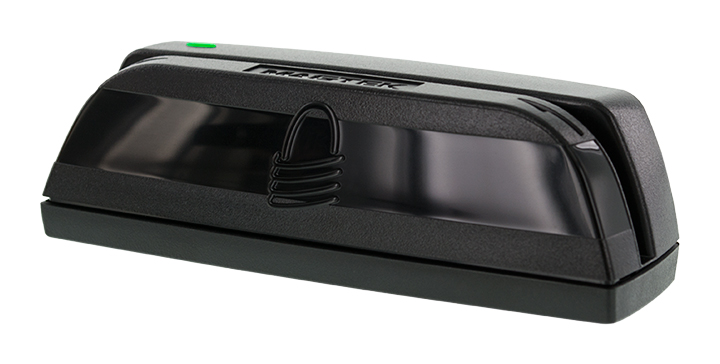 Swipe through your Computer
We know that some merchants appreciate the convenience of swiping credit cards directly at their computer. With MX Merchant, you can easily capture swiped sales through a USB-connected credit-card swiper that connects to any computer with an internet connection, and have access to digital receipts:
Swipers are only $119 + shipping.
Seamlessly integrate with MX Merchant so that you can enter card-present transactions directly into MX by swiping the card.
This is a

swipe-only

solution. Chip cards cannot be processed through the USB swiper at this time.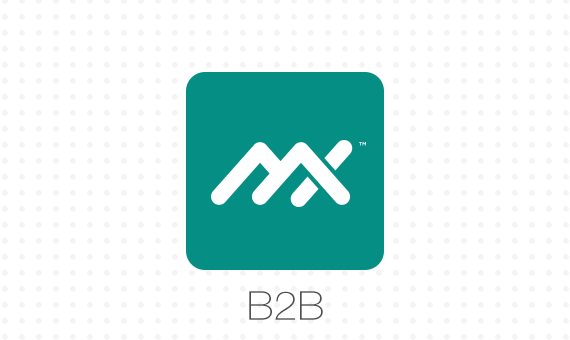 MX Merchant B2B App
For only $20/month, access the lowest possible interchange rates with the MX B2B app. Once installed, the B2B app works in the background of your account to qualify your sales at the lowest B2B interchange rates available. Using sophisticated technology, the MX system will automatically include level 2 and level 3 data points in every transaction you submit. By using the MX Virtual Terminal, you'll qualify for interchange rates that can be over a half of a percent lower than standard rates – and you pocket the difference.
With the MX B2B App, you don't have to waste time entering in extra data. The system does it for you, and you access rates that can save you hundreds or thousands of dollars every month.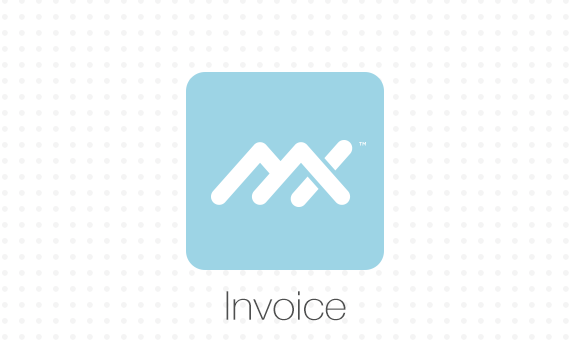 MX Invoice App and Recurring Payments
If you have repeat customers, being able to invoice your clients and create recurring payments is a must. For an additional $10/month, you can also easily send and receive invoices from your customers. With the MX Invoice App, you'll be able to create one-time invoices, or easily create "templates" for future invoices, so that you can quickly select the right invoice and send to your customer in a breeze.
Save customer's information for later access and easy re-billing.
Create "Recurring" invoices for ongoing payments from clients.
Email invoice requests to your customers for quick payment.
Customize your receipts with your logo, text, and payment terms.
Receive email/text notifications for declines, received payments, chargebacks, and more.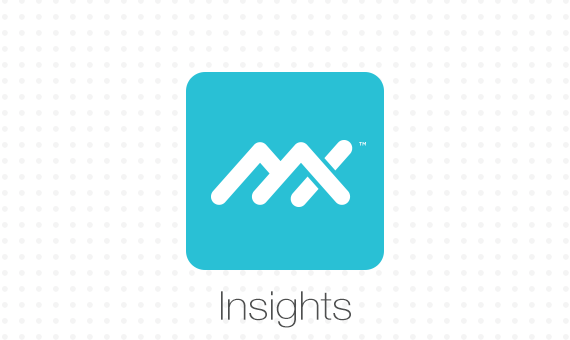 MX Merchant Insights App
Outwit your competition. With access to a growing database of over 95 billion transactions from nearly 2 billion card holders, MX Insights distills Big Data into Actionable Insights about your customers and local competitors.
For only $10/month, you can dig deep into your processing to learn demographic behavior you never thought possible. See what types of customers frequent your business by age, gender, income, education levels, and more. Connect with your social media accounts so that you can stay in touch with your customers from one platform. MX Insights gives you the information you need to help you make the right business decisions.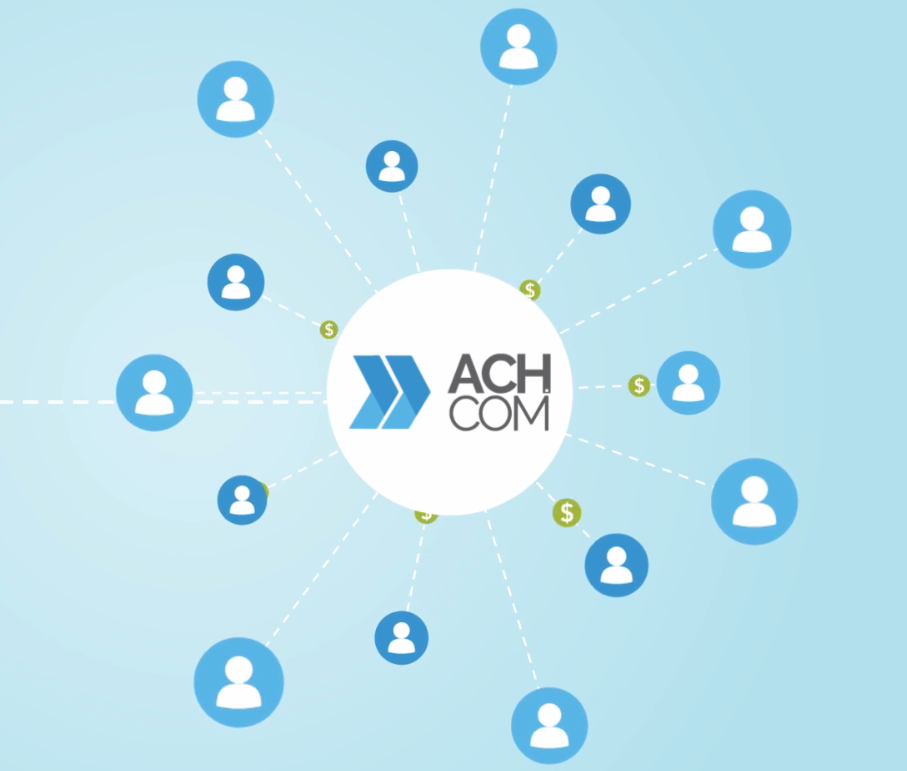 ACH.com Check Processing
The MX Merchant platform integrates seamlessly with ACH.com so that you can accept ACH payments from the same portal as credit card processing. Save ACH information for future billing, or key-in a one-time transaction. You can even setup recurring ACH payments. ACH payments are easy, quick, and importantly – they're cheaper than credit cards. See the fees:
Auto-Approval for $5,000/month in volume and $1,000/sale
$25 monthly fee
$0.40/transaction fee
$2.00 return item fee
$5.00 reversal fee
If you require higher limits, that's perfectly fine – we can accommodate any need. It's important to note that the ACH.com underwriting process is separate from your credit card underwriting process, and if you do require higher limits, it can take up to 10 days to fully approve. There will be additional documentation requests, too. But once up and running, accepting ACH payments is a breeze within the MX Merchant portal!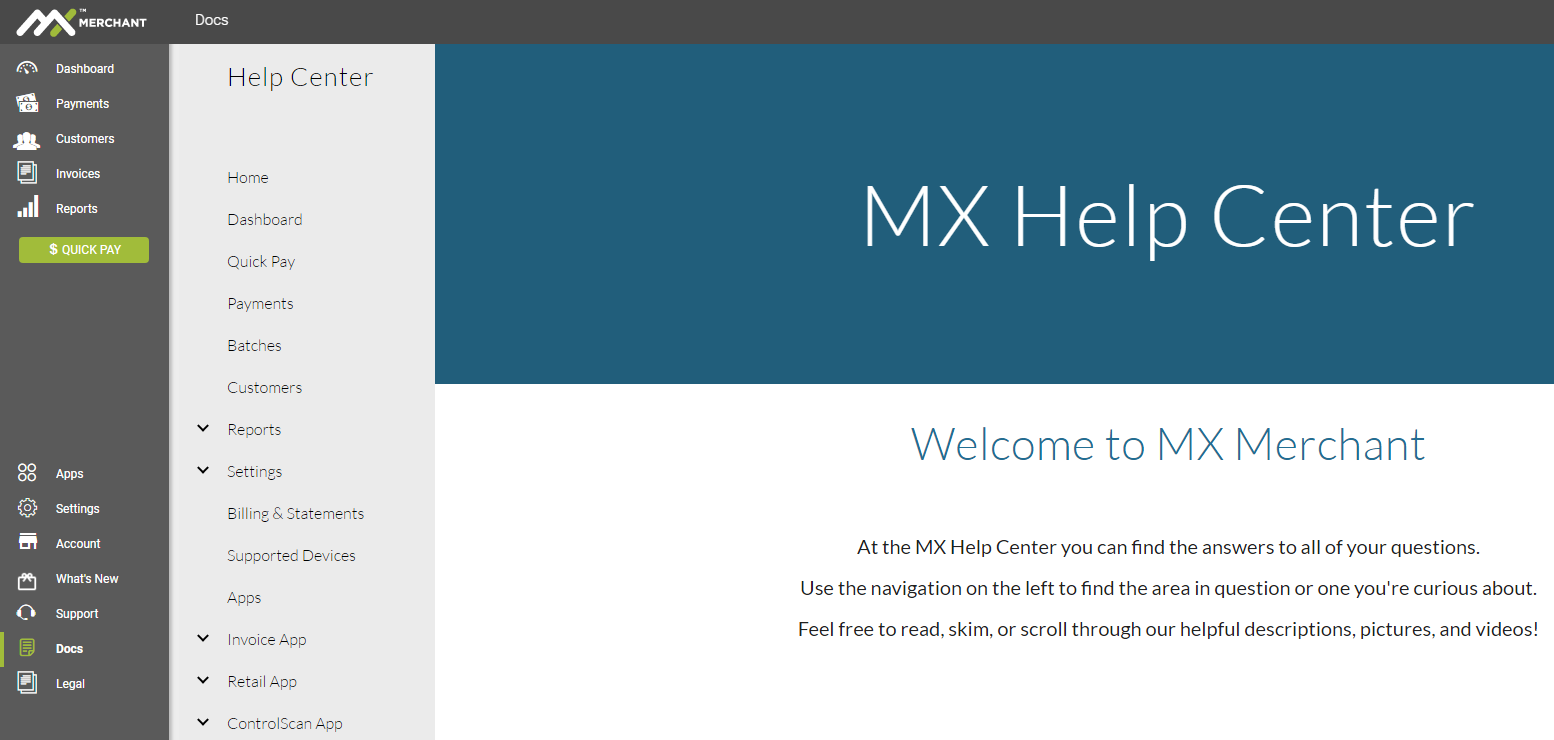 The Support you Need
The MX Merchant interface is intuitive, simple, and easy to navigate. Built right into the interface is a support section that provides tutorials, videos, and in-depth explanations of all features. No guessing! MX Merchant supports you with:
Integrated video help, built right into the app (see a few here)
Live-chat with an MX representative to answer your questions quickly.
Detailed documentation about all features.
Live Phone support and email support.
"What's New" section detailing product updates.
MX Ideas – submit your suggestions, and see future product releases.
What's Included?
Everything you'll need to run your business.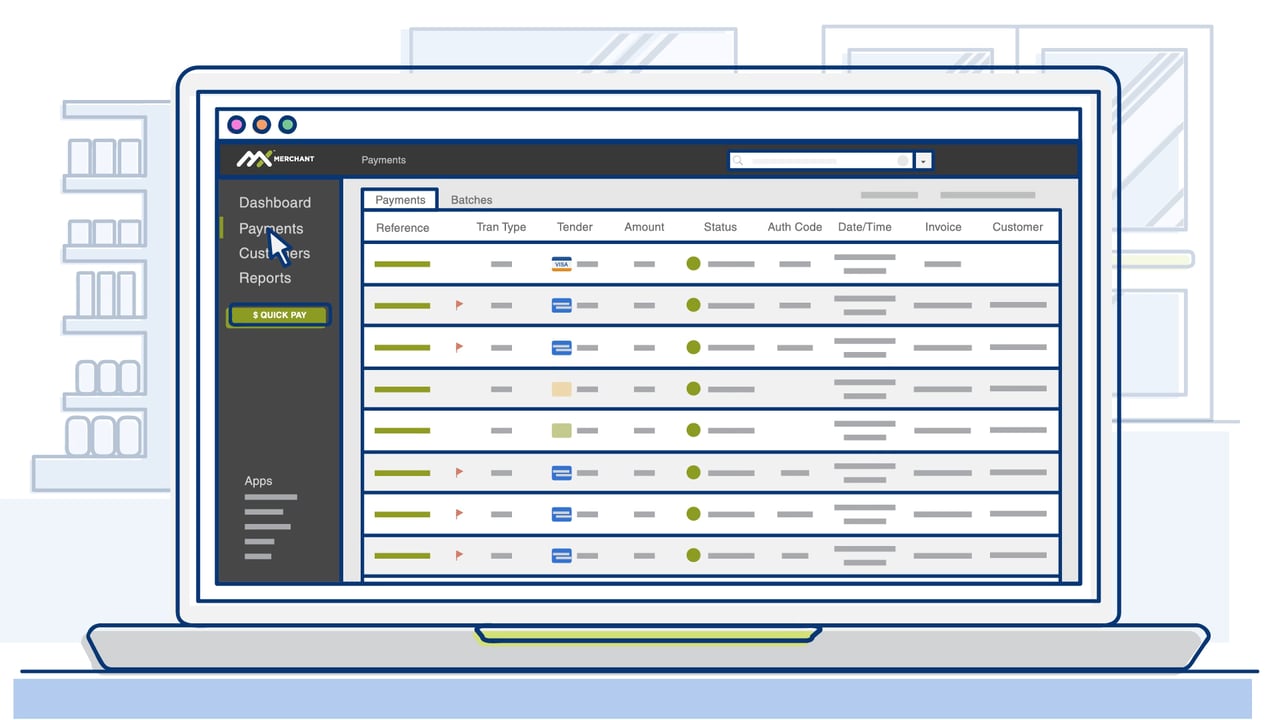 Find out if Dharma is right for you.