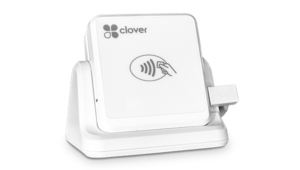 Clover Go Contactless
Recently we introduced Dharma's use of the Clover suite of POS solutions.
Now we'd like to introduce Clover Go Contactless, which takes it to the next level, using a bluetooth connection for truly wireless processing. Clover Go Contactless also allows for Apple Pay and all other contactless payments, too!
Connect with an optional cradle (additional $29) to keep the device always-charged, or customer-facing.
Device connects via bluetooth for a fully wireless experience.
Sturdy device is battery powered, and can accept over 160 transactions per charge USB charger allows you to quickly recharge device, or use the optional cradle.
Accept both EMV (chip) cards as well as magnetic swipes.
Accept all contactless (NFC) payments, like Apple Pay, Google Wallet, and Samsung Pay Works with Apple and Android.
Cost is $139/device.
The market is already full of POS products, but we can really rely on the flexibility, customer support, simplicity, style, and value of Clover's family of mobile, mini, and full function registers. All products accommodate multiple payment types including EMV, PIN debit, and Apply Pay, as well as inventory and barcode scanning.