Full-Featured Terminal: $349
The FD-130 is First Data's flagship new terminal, allowing merchants to accept Chip+PIN as well as adjust for tips on EMV sales. This terminal is perfect for restaurants or any fast-paced business, and has all of the most desirable features offered in standalone terminals, including a WiFi credit card reader. Accept every form of payment, in the most secure way possible:
Accept EMV (chip) sales and magnetic stripe cards
EMV tip adjustment, so that you can take tips on your EMV sales
Allows for Chip+PIN today, for the most secure transaction possible
Connect via IP or Dial, or utilize a wireless (WiFi) connection
Color, touch screen for quick and easy navigation
Take NFC payments, such as Apple Pay and Google Wallet
Easy-to-read receipts and simple drop-in paper loading
Easy-to-print batch reports, server reports, and tip reports
Automatic over-the-air updates
Simple, straight-forward menu structures
Connects to optional FD-35 customer-facing PinPad for an additional $200
Allows for lodging application, B2B acceptance for level 2 processing, and other upper-level features
See an interactive demo here
FD-130 Terminal $349 + shipping fees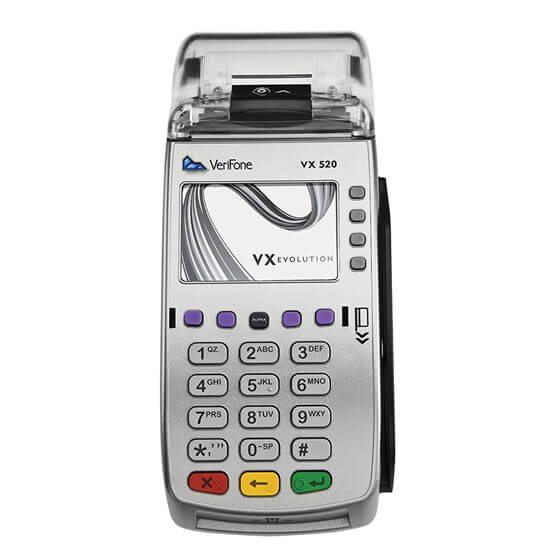 Basic terminal: only $249
The Verifone Vx520 is well known as one of the most reliable terminals in the industry. It has all of the major features you'd expect – EMV acceptance, IP/Dial-up connectivity, an internal PinPad for PIN-debit transactions, and a familiar menu structure for merchants who've utilized the Verifone product line in the past. See a full feature list:
Internal Ethernet (IP) connection as well as a dial-up phone line, so you can choose how you want to connect. (No WiFi connection)
Internal PIN-pad for taking PIN debit sales.
No Chip+PIN. Chip+Signature is currently available.
No Apple Pay built in, when paired with the external Vx805, you can accept contactless (NFC) payments like Apple Pay.
Vx520 terminals can be setup as "Multi-merchant" terminals so that multiple businesses can share the same terminal.
Black/White backlit screens and keys make for quick and easy inputting of sales.
Easy-to-use menus and user-friendly controls make this terminal a fast favorite.
Allows for B2B acceptance for level 2 rates
This terminal uses standard 85′ paper rolls, with a "drop in" loading technology.
Verifone stands behind their products with a 1 year warranty.
Verifone Vx520: Just $249 + shipping fees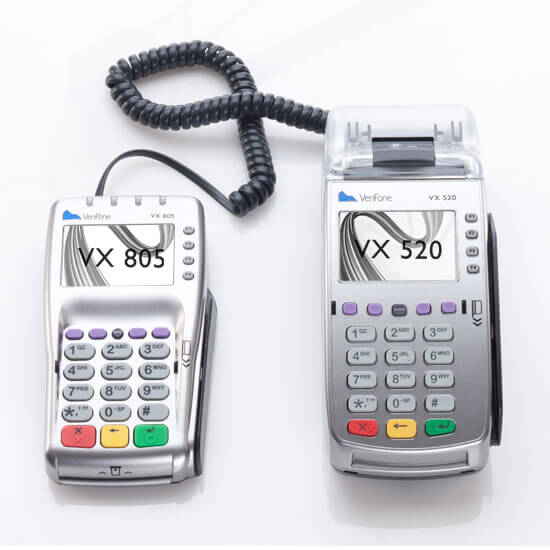 Standard Terminal + PinPad: $449
If your organization wants to accept new EMV cards and accept tips, you may want an External PinPad. VeriFone has the perfect combination – the Vx520 terminal paired with the customer-facing, Vx805 PinPad. Together, you can accept EMV payments with tips, right at the point of sale. Simply enter the transaction amount on the terminal, and the customer will be prompted to enter the tip. Then, they can "dip" their chip-card or swipe their credit card, all through the Vx805 device, completing the sale. Here are the features:
Fully EMV capable – take EMV cards through the terminal or the PinPad.
Internal Ethernet (IP) connection as well as a dial-up phone line
Chip+Signature is ready today, NO Chip+PIN.
NFC and Apple Pay capable. Let people pay with their iPhone or any other smartphone with NFC technology, directly through the customer-facing PinPad.
Accept tips directly through the customer-facing PinPad. The customer will be able to discreetly enter their tip without your input, so that you don't have to manually adjust your sales for tips every evening.
The Vx805 has a customer-facing PinPad for taking PIN debit sales.
Verifone Vx520 and Vx805 PinPad: Just $449 + shipping fees
Want to see the Vx520 terminal in action?
Sometimes, you just want to see it work.
3G Cellular Wireless Terminal: $649
If you need to accept payments in a location without a dedicated internet/phone connection, you'll need to use a wireless terminal that connects to the cellular networks. Here are the main specifications for the Pax S90 terminal:
The s90 terminal is fully EMV capable.
The s90 contains a wireless cellular connection and dial-up line.
T-Mobile network coverage with 1 gigabyte of monthly data included, to allow you to take payments anywhere you have coverage.
Store-and-Forward mode, which you can enable on-the-fly. At an event and cell coverage goes down? Not a problem – just turn on Store-and-Forward mode, and continue swiping!
Over-the-air (OTA) downloads. With the PAX S90, you don't even need to plug in a phone line to perform terminal updates, it all happens wirelessly!
If you happen to be in a space without cellular service, the S90 includes an internal dial-up connection, so you can still plug in and process even if cell networks go down.
PAX s90: Just $649 + $20/month for wireless service
Top Frequently Asked Questions
Read our most common FAQs, and browse our Knowledge Base to learn more about merchant services.