MX Merchant – Online Payment Links
Learn how to easily create online payment links, to easily accept payments on your website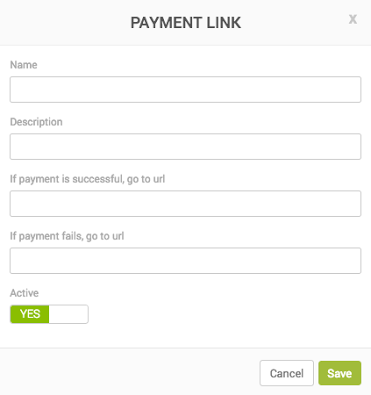 Create a New Payment Link
To create a new payment link, click Settings, then Payment links. Then simply click the +Add Payment Link button in the upper right hand corner of the page. Now you will see the pop up to the left with the following fields:
Name – A unique name that describes the payment link. This will be important if you have more than one link in use.
Description – The description field will appear at the top of your payment link and is visible to your customers.
If payment is successful, go to url – When a payment is made using this link and the transaction is successful the user will be redirected to the URL provided here. This page is usually explains to the customer that the transaction is complete.
If payment fails, go to url – When a payment is made using this link and the transaction fails for any number of reasons, the user will be redirected to the URL provided here. This page usually explains to the customer that they will need to try again.
Active – You can make as many links as you need and set the status to active or inactive. Active means that payments can be made on this link and inactive means that no payments will be accepted through this link.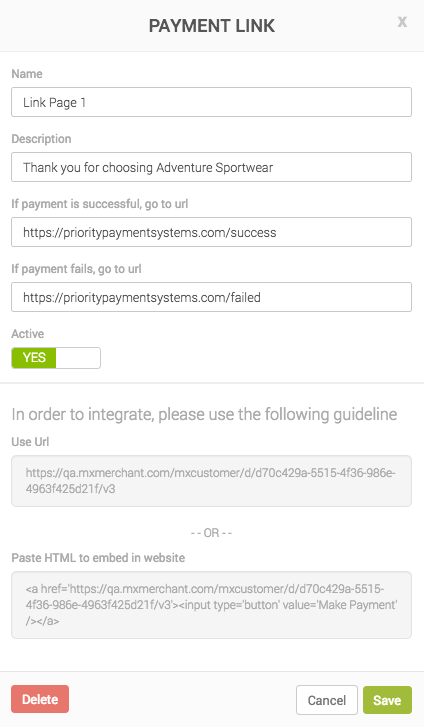 View and Edit a Payment Link
To see more information on an existing payment link click on the payment link name found in green within the list. Doing so will open a pop up with the payment link information. If you make any changes make sure to click the save button at the bottom of the pop up in order for your changes to take affect.
The first half of the pop up is the same information you initially filled out. However, the second half is the important part. This can be found by clicking on the payment link name or after you click save after initially creating a payment link.
You will notice you have two options to choose from:
Using the URL – means that you can redirect your customers to a new page entirely (outside of your website) to make a payment.
Paste HTML to embed in website – means that you will need to have your website manager to add this HTML code to an object within your existing website. This will allow your customers to make a payment without leaving your URL.
Depending on the payment flow you would like your customers to experience as well as the resources you have available to you in terms of development or website management, one of these options will prove to be better than the other.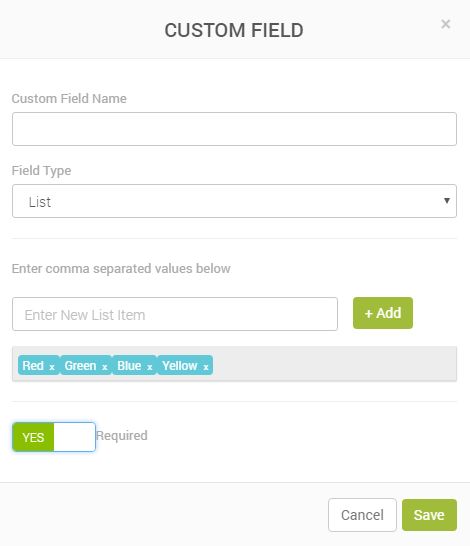 Custom Fields
You can also add in custom fields, to ask for additional information/input from your users making a payment. Simply click on the +Add Custom Field button to create a new custom field. You can create as many as you'd like. When creating a custom field, you'll have a few options:
Field Name: You'll want to use a unique name for each field so that it's easy to reference later, particularly if you create several fields.
Field Type: Here you can select the type of field you want to create. You can allow your users to enter basic text, answer a yes/no question, enter a number/decimal, or choose from a list of options that you define. If you select "list" you can enter the choices you'd like to display by separating each choice with a comma.
Required: If you select "yes" you'll force your user to enter a value for this custom field.
One you click "Save" you'll see the custom field appear in a list at the top of the page. To add the custom field to any payment link, simply edit an existing link or create a new one – your new custom field will appear as an option for each Payment Link you generate.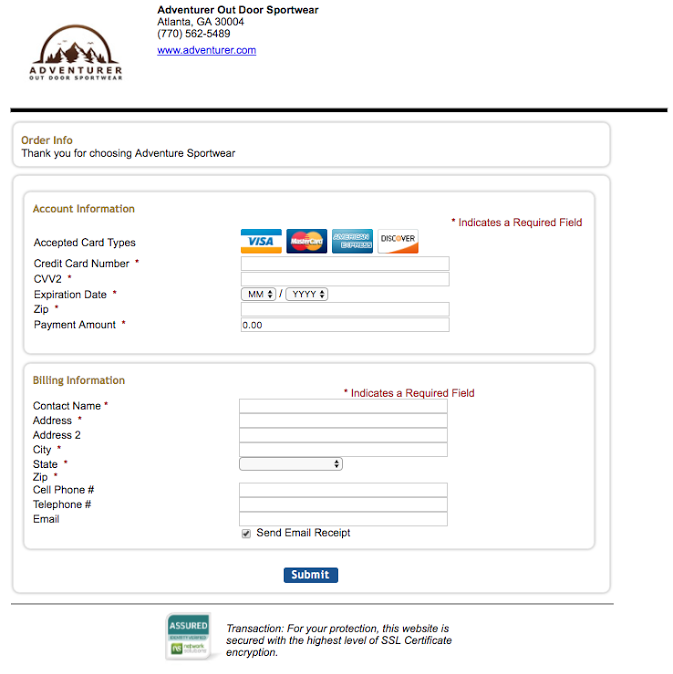 Payment Link Example
The URL that is created for you (should you choose to redirect your customers rather than adding the HTML code) will look very similar to the image shown here. The customer will enter their card information, the amount of the transaction, their billing information, and then click Submit. If you've added any custom fields to your payment link, then they'll also reflect on the payment screen your customers see.
Depending on the Success and Failure URLs that you provided in the pop up when you created the link will determine what the customer sees after they click the submit button.
Once a payment is made on this form it will immediately be visible to you within MX Merchant. If you have receipt emails setup, you'll also receive an immediate email confirming that an online payment has been made.
The great thing about payments links is also that the button can be styled like any other HTML object. You can change fonts, button shape, colors, etc.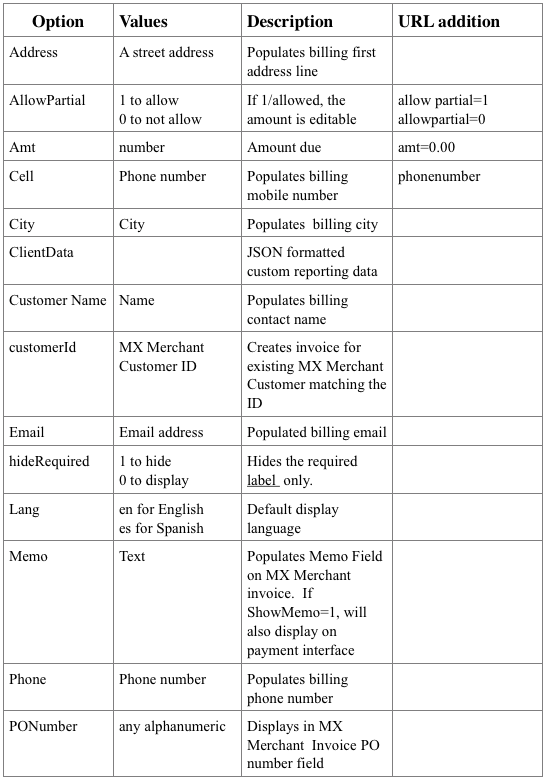 Pre-Filling your Payment Link
With a little bit of URL-manipulation, MX payment links can be easily "pre-populated" with any values you want. For example, you can pre-fill the amount field, or you can pre-populate a customer record number to reference a customer record that you've saved to MX. Here are the common additions you can use:
To pre-populate the Amount field, simply add the following to the end of your payment URL: ?amt=50.00
To pre-populate Customer Data, simply add the following to the end of your payment URL: ?customerid=0001 where "0001" references the customer ID field from MX Merchant.
You can combine multiple pre-fills by using the & symbol. So – you can fill BOTH the amount as well as customer information. When appending data to the URL, you'll simply add the "&" in between both items. For example, if you want to edit both the amount and customer ID, you'd append the following:
View the image to see other fields that you can modify via the URL.