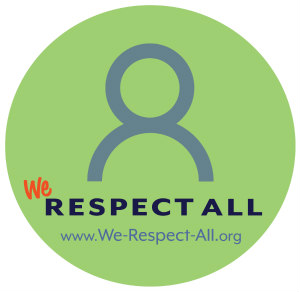 We Respect All
To borrow a line from the B Corp movement, our company was formed to be a force for good; to support and to serve the community of all beings in need. In addition to being a certified B Corp, Conscious Capitalism member, Green Business Network member, Social Venture Network member, and a California Benefit Corporation, we are also a member of the American Sustainable Business Council (ASBC) – a Washington, D.C.-based nonprofit that advocates and lobbies for policy change at the state and federal level in support of a more sustainable economy.
The ASBC recently developed a program for businesses to unify around the core values of mutual respect and to show their colors to the world. The We Respect All pledge is a commitment to acknowledge and confirm the idea of inclusivity and mutual respect for all people regardless of political or social ideology. This is a badge that companies can wear on their sleeves to display their message of inclusion, and Dharma Merchant Services is proud to be a part of this movement.
Kudos to ASBC for promoting this movement and we encourage every one of you to make your pledge here.
Please note: while Dharma was a Registered B Corp at the time of this posting, it no longer is.