USAePay and Apple's iOS 7 Update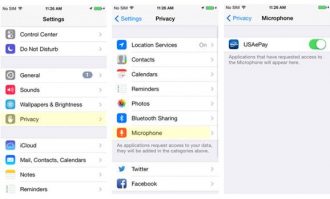 USAePay and Apple's iOS 7 Update
When you update your Apple device to iOS 7, you will need to adjust your microphone in order to swipe cards with your PaySaber Jack card reader. Once you have iOS 7 installed, follow the instructions and screen shot examples below to allow the USAePAy app to access the microphone.
1. Go to Settings > Privacy > Microphone
2. Turn on the PaySaber Jack
3. Restart the USAePay app and begin swiping payments.
If you have not updated your Apple device to iOS7, your app will function as usual. When you do update, follow the promts above to allow microphone access the first time you open the USAePay app. For additional assistance contact support@dharmams.com .