Updating your Dharma account is easy!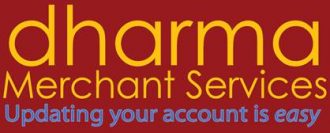 Updating your Dharma account is easy!
Do you have an account update to make? Have you moved locations? Do you have a new employee who should be able to call on behalf of your business? Do you need to update your checking account or add AMEX? I have good news – you have the power to do all of these things directly from the "Manage Your Account" section of our website! You don't even need a login or password – just your merchant account number.
This is a powerful tool for you to make important updates to your account. We understand that, when hiring a new employee or changing your checking account, updating that information with your merchant service provider is usually the last thing on your mind. But providing the new information to us will make things a lot easier in the future! The contact info we have on file determines who can get support on your account and allows us to provide an added level of protection by identifying authorized contacts.
If you are processing with a terminal or a gateway such as Authorize.net, the support departments will not be able to provide detailed information unless you are added as a contact on the account and you know the correct business address on file. The address on file also determines where your monthly statements and important notices, such as Chargeback notifications, are sent. Please help us keep your account information up-to-date so that we can provide the best service possible!