Two Guys, a Herd of Goats and a Llama walk into a…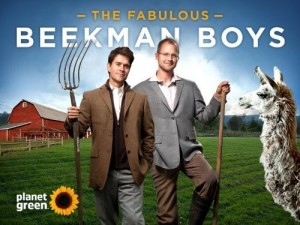 Two Guys, a Herd of Goats and a Llama walk into a…
It may sound like the punchline to a joke but it was anything but funny when partners Dr. Brent Ridge and Josh Kilmer-Purcell originally purchased Beekman Farm at the height of the real estate boom in 2007. One year later the market crashed, both had lost their jobs, and coming up with a monthly farm mortgage payment was no easy task. Enter sustainable TV network Planet Green who approached the boys to create a reality program based on their experiences on the farm raising a herd of goats and one unruly llama. One year later, "The Fabulous Beekman Boys" aired on Planet Green Network and two new icons for the sustainable set were created.
Josh and Brent traveled to San Francisco April 9 to appear at the SF Green Festival to talk about their farm and their lifestyle brand, Beekman 1802. (1802 was the year their farmhouse was originally built.) The guys try to embrace seasonal, natural living wherever they can. With a little help from an appearance on the Martha Stewart show, the Beekman Boys introduced their first product: goat milk soap. Many more goat milk products were to follow including the newly released "Cajera" caramel sauce. With the launch of these products and the success of the reality program, the boys have now been approached by Williams-Sonoma to release packages of their favorite heirloom seed varieties grown on the farm.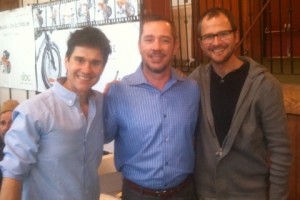 It was great fun listening to these guys discuss the in's and out's of life on the farm during the festival. But the main takeaway for me was their exhortation to plant something. Josh and Brent believe the only way humans are going to get back to our food roots is to learn how to grow our own food; on farms, in our yards, our roofs, our kitchens, even at our offices. In fact, their goal is to make their website the largest online farming community in the world. I would say they are well on their way.
My friends at Dharma have encouraged me to accept the challenge of Brent and Josh. So, I have decided to try my hand at farming. Like the Beekman Boys, I have little farm experience but a lot of passion. I will keep you posted on my progress in the days and months ahead. And if you have tips I encourage you to post them in the comments section. I assure you, I will need all the help I can get!
Photo: Brent Ridge, Trace Wendell and Josh Kilmer-Purcell. The Fabulous Beekman Boys and a fabulous Dharma Boy!