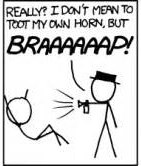 Toot Your Own Horn.
In the "Toot Your Own Horn" department, Dharma has recently passed the B Corp certification for the 5th time! No big deal you say? For those of you who may be unfamiliar with this movement, B (Benefit) Corps are companies that meet the highest standards of social and environmental performance, public transparency, and legal accountability in the pursuit of making a positive impact to solve social and environmental problems.
And by highest standards, we mean to meet extraordinary qualifications that are set by B Labs that only about 2,500 companies have been able to pass – worldwide! It is estimated that over 40,000 businesses have reviewed the assessment, so this is no easy task to pass. The Impact Assessment covers multiple areas – governance, human resources, operational integrity, community support, customers, and so much more. In addition, when Dharma Merchant Services moved from California to Washington State, we reincorporated as a Special Purpose Corporation (SPC), which is a unique business type that indicates the highest commitment to serving the public good and not just a typical capitalistic company which is only concerned about profit.
We started our business in 2007 with the intention of becoming an example of how business can be a force for good and by every measure we have been a success. On that note, we wish all of you abundance and success in your business endeavors.
Please note: while Dharma was a Registered B Corp at the time of this posting, it no longer is.