Smile! Dharma Featured Photo Contest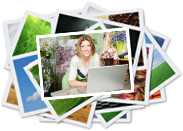 Smile! Dharma Featured Photo Contest
As we mentioned before, we're absolutely thrilled with our new website (thanks again to the folks at Earthsite!). We hope you're enjoying it too and welcome your comments to help improve it even more.
We have one great idea already: we think a huge improvement would be to have it feature amazing pictures of you! So we're having a photo contest where you can submit pictures of you at your business and we'll choose three lucky winners to be featured on our home page. We're really looking forward to receiving your photos!
Submit your photos by July 31 for a chance to win!
To enter for a chance to be featured on our homepage, submit up to 3 photos of you at your business. The picture will need to feature the business owner and/or employee(s) at your place of business. So pick your best side, smile and snap away!
Not able to submit your photos through our Facebook submission form? Feel free to use the alternate submission form!
Grand Prize
The top 3 photos submitted will be featured in the rotating photo showcase on the homepage of DharmsMS.com. In addition, each featured photo will link to a description of your business in our Featured Clients directory.
All valid submissions will be featured on Facebook!
All valid entries will be featured in an "Our Beloved Clients" photo album on our Facebook page. Valid entries are creative but professional pictures of current Dharma Merchant Services clients that feature either the business owner and/or employee(s) of the business at their place of business.
Contest Dates
The contest begins on July 1, 2012 at 9:00am (PST) and ends on July 31, 2012 at 9:00pm (PST).
The winners will be announced in our monthly newsletter and smiling back at you from our website in August!