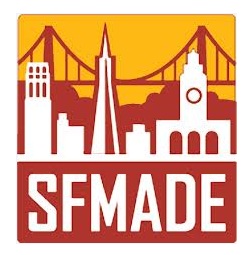 SFMade and Buying Local
By now, the idea of buying locally is imprinted on the minds of most sustainably minded consumers. Buying food and products sourced from local vendors and stores close to your home (and preferably within your city limits) is smart AND eco-friendly for many reasons;
1.Local manufacturing and production of goods is vastly more eco-friendly
because the product doesn't have to travel miles on a truck to get to you OR to be manufactured.
2.The money from your purchase stays in your community, allowing the business owner to reinvest in the community by hiring new employees and upgrading their facilities
3.Farm fresh produce from your local farmer's market is picked at the peak of freshness and tastes delicious!
Organizations like SFMade know this better than anyone. SFMade is an organization whose mission is to build and support a vibrant manufacturing sector in San Francisco that sustains companies producing locally-made products, encourages entrepreneurship and innovation, and creates employment opportunities for a diverse local workforce. Similar organizations have sprung up across the country in places as diverse as New York and Detroit to Chicago and Philadelphia; all dedicated to promoting local manufacturing jobs. Over the summer, I was able to tour several local SFMade merchants operating within San Francisco and was amazed to see the diversity of businesses operating and manufacturing products right here in the city limits. From food and beverages to clothing and accessories, I was amazed by how much actual manufacturing is done right here in San Francisco. I will be profiling a few of these local businesses over the next week to share how they use local resources to produce superior, sustainable products. Do you know of "Locally Made" organizations in your city? If so, please let us know in the comments section below.