Sacred Commerce Introduction
Sacred Commerce Introduction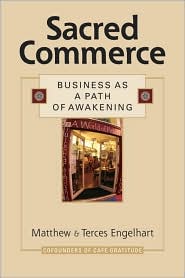 Dharma Merchant Services is engaged in a very powerful practice which integrates the intention of dharma – right actions, right intentions, right speech – as a way of being connected to spirit. The challenge is to bring that wisdom and understanding into our business, our livelihood.
We've found one of the best ways to meet that challenge is with a daily practice of "clearing", which we learned from the Sacred Commerce workshops created by the founders of Cafe Gratitude.
Clearing is a method of identifying the thoughts, emotions, and situations that deter us from being present, so that we can then be clear to hold a loving and intentional space in our interactions with you all and with each other. This process has been absolutely transformational for all of us here at Dharma. We hope that you can sense the difference and can feel the positive energy coming through. We will write about a different aspect of this practice every month in addition to adding new web pages and blog entries on the subject.
If you would like to know more about how to do the clearing practice please let us know. We Tweet our clearing questions of the day so feel free to join in!