The Present Parent Handbook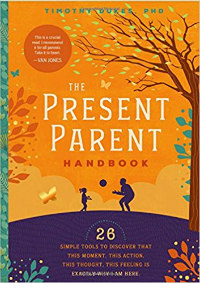 The Present Parent Handbook
We'd like to introduce a very special book just released by a Dharma friend, Dr. Timothy Dukes: The Present Parent Handbook – 26 Simple Tools to Discover That This Moment, This Action, This Thought, This Feeling is Exactly Why I'm Here.
The role of a parent is more demanding than ever. We talk to, dress, and feed our children while scheduling appointments, checking our work emails, and solving problems that have somehow made their way into our kitchen. But as deadlines are met and meetings scheduled, one has to consider the implications of these uninvited guests stealing our parenting opportunities. Are we allowing the urgent to overrule the important?
In this timely, insightful handbook, Timothy Dukes, Ph.D. consultant, psychologist, and father, urges parents to slow down, unplug, and just be with their children. Dukes advocates, "The key to parenting lies in our willingness to learn, though our experiences of parenting, what it means to be a parent." In chapters organized from A to Z, with core themes like Balance and Say Yes, Dukes guides the reader on a path to becoming a more present, in-the-moment parent. Parenting is an opportunity to start fresh each day, and The Present Parent Handbook provides a timeless reference to refresh and inspire those parenting moments, hours, days, and years with our children. This toolkit should live on the bedside table; it will inspire, illuminate and shake away the shadows when darkness falls and doubts arise out of quiet reflection.