New Partner – Spring Bank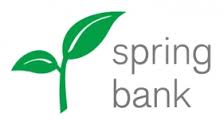 Spring Bank
Dharma is privileged to announce a new partnership with Spring Bank – a community bank serving the needs of underserved consumers and small businesses in the New York Metropolitan area.
In addition, Spring Bank recently became a certified B Corporation, joining a community of companies recognized for socially responsible business practices. In fact, they are the first B-Corp bank in the North East! In neighborhoods where the use of high-cost fringe financial products is more the norm than the exception, Spring Bank seeks to create innovative depository and loan products designed to help these underbanked consumers avoid getting trapped in cycles of debt and to build wealth. We invite our east coast merchants to "break up with their mega-bank" and commit to working with an institution that is being a force for good in the world. Please mention that you heard about them from Dharma!
Please note: while Dharma was a Registered B Corp at the time of this posting, it no longer is.