5 Tools for Mobile Marketing Success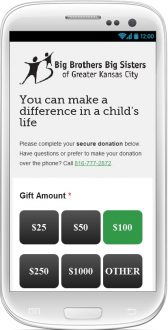 5 Tools for Mobile Marketing Success
Have you embraced mobile marketing yet? SteamFeed recently reported that 37% of internet usage in the U.S. is on a mobile device. That is a huge demographic your good cause could be missing out on if it isn't mobile-friendly.
Our friends at 4AGoodCause compiled a list of the top 5 tools you need to use to make you mobile marketing strategy a success.
1. Responsive Web Design
2. QR codes
3. Mobile Friendly Donation Forms
4. Phone Lists
5. Mobile Analytics
Click here to learn more about how to maximize your fundraising potential with mobile marketing.