Merchant of the Month – Northwest Earth Institute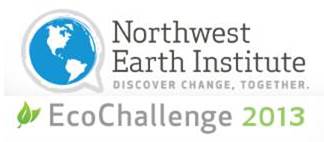 Merchant of the Month – Northwest Earth Institute
We have overworked our planet. In the pursuit to improve our lives, we have risked our own survival. The result has been global warming, depletion of the ozone layer, pollution and even the extinction of certain species! Now, more than ever there is a growing awareness of the fact that proper stewardship of the environment and survival are intricately woven into each other. But, saving the environment does not have to be all doom in gloom. In fact, our client and partner Northwest Earth Institute has created an event called the EcoChallenge to be a fun and inspirational way for people to take responsibility for the Earth by changing one habit at a time.
Northwest Earth Institute was started in 1993 by native Oregonians Jeanne and Dick Roy and NWEI with a simple objective: to give people a framework to talk about our relationship with the planet and to share in discovering new ways to live, work, create and consume. Over the last 20 years, NWEI has developed and implemented programs designed to motivate individuals and organizations to take action toward a sustainable future. And (as more than 140,000 NWEI participants worldwide have discovered since then) it turns out that within that simple objective is a recipe for powerful change.
The EcoChallenge is an annual event that challenges people to choose one action to reduce their environmental impact and stick with it for two weeks. By visiting www.ecochallenge.org, individuals and teams pick a category—water, trash, energy, food or transportation—and set a goal that stretches their comfort zone and makes a difference for themselves and the planet. EcoChallengers will accrue points for engagement – everything from succeeding at your EcoChallenge to engaging friends and family in the event will earn you points. At the end of the EcoChallenge your points will increase your odds of winning fun raffle prizes!
The two week challenge which runs from October 15-30 gives individuals, organizations, companies, and universities an opportunity to change their daily habits in a way that is better for Earth. The event demonstrates the collective impact of many people making sustainable changes in their everyday lives. This can be as simple as carrying a tote bag to farmer's market or buying a reusable water bottle.
The Dharma team will be rising to the challenge by committing to go "zero-plastic" both for the two weeks of the challenge and beyond. "Adding zero-plastic to our sustainability bottom line (which includes composting, recycling and being a paperless office), will be our small way of helping the environment and is a habit which we can then carry over to our personal lives, as well." said Ron Lewis – our Dharma office manager extraordinaire.
Working individually and collectively to raise our consciousness and responsibly steward our environment is the surest way to promote the health of our communities and the long-term health of our planet.
Are you up for the challenge? Sign up at EcoChallenge.org today. The earth will thank you.