Merchant of the Month – ECOLunchbox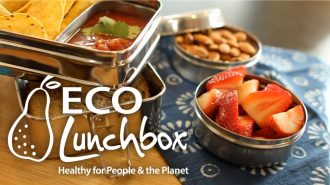 Merchant of the Month – ECOLunchbox
ECOlunchbox was founded out of a California eco-mom's need and desire: a need for sustainable and non-toxic lunchware for her children's school lunches & a desire to reduce lunchtime waste and our world's increasing dependence on plastics. Chief Eco-Mom and Founder Sandra Harris says the company's mission is to "reduce the world's dependence on plastics by providing high-quality, plastic-free alternatives." The unique lunchware line is designed to be the ultimate "free lunch": plastic-free, waste-free, vinyl-free, PVC-free, sweatshop-free, lead-free and generally free of all toxins.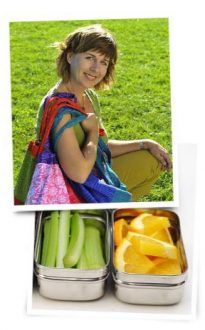 The widespread use of plastic is causing huge environmental problems and there is growing concern about plastic's health risks, especially for children. Evidence is growing that chemicals leach out of plastics used in food and drink storage. Scientists believe that these plastic chemicals are harmful to humans, especially in children whose systems are more vulnerable. The evidence of health risks from certain plastics is increasingly appearing in established, peer-reviewed scientific journals. Bisphenol A (BPA) is linked to behavior issues, obesity, hormone and thyroid problems, diabetes, and even kidney and heart conditions.
A lunch waste study commissioned by ECOlunchbox has determined that a typical American family, packing lunch with plastic baggies, disposable napkins and utensils as well as pre-packed snacks and juice sacks, discards approximately 4,320 pieces of trash annually! ECOlunchbox calculates the actual costs of all this lunchtime trash to be $400 annually per family. And that doesn't include the external costs that this plastic does to our eco-system.
Going green at lunchtime with stainless steel ECOlunchbox bentos and artisan bags, napkins and other eco-friendly accessories saves money – plus it's healthy for people and the planet. ECOlunchbox is grateful that through the use of its eco-friendly lunchware families throughout the United States and internationally have prevented the disposal of millions of pieces of plastic lunchtime trash. ECOlunchboxes has won rave reviews and has been featured in USA Today, Food & Wine magazine, the Today Show, Ode Magazine, Diablo Magazine, as well as many newspapers and online publications. Thanks Sandra, for seeing a need and creating a product that keeps toxic chemicals away from our food and keeps plastic out of a landfill! Dharma is thrilled to support ECOlunchbox and eco-moms everywhere!