Merchant Interview with Jill Pollack of StoryStudio Chicago
Merchant Interview with Jill Pollack of StoryStudio Chicago
StoryStudio Chicago builds community by bringing writers of all skill levels and from all walks of life together for education, discussion and live performances. Classes are offered to aspiring adults who want to get started in creative or business writing, and to experienced writers looking for more expertise. The Youth Institute offers a chance for students eager to learn more or those needing extra support to connect with inspiring teachers outside of the classroom. With two lively locations and a rich online magazine, StoryStudio Chicago makes an incredible contribution to their community. We're grateful to be working with them! I had the pleasure of learning more about how founder and director Jill Pollack started her business and hear some of her reflections in our recent interview, shared here.
How did you get the idea to start StoryStudio Chicago?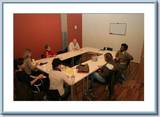 I started the studio for selfish reasons really. I've always been a writer but I was craving a community of writers and a physical space in which to create. In 2003 I made a radical decision to close down my consulting business and devote myself full time to writing. The idea of teaching seemed natural. But I also wanted to continue to grow as a writer, to hang out with other writers, to be in "writerly" space.
That's why I built StoryStudio Chicago. It's where I would want to hang out.
What effect have you seen StoryStudio Chicago having on your community?
Being a small business owner, I forget sometimes to look at the larger picture because I'm so mired in the day-to-day details of running the business.
But when I do step back, I realize the impact we've made on both a community and an individual level. StoryStudio was the inspiration to build an alliance among Chicago's literary organizations for not-for-profit groups, universities and for-profit businesses to share resources and collaborate. On an individual level I continue to be amazed at the courage of some of our writers. It's not uncommon for a new student to tell us how terrified they were to walk in the door. But how grateful they are to have found a writing home and the encouragement they need to tell their stories.
We sometimes forget the power the written word can have, as well as how empowering it is when we tell our own stories.
What is your favorite aspect of what you do?
My favorite aspect is being in the classroom with students and finding just the right words to say that will open up their creative minds. It's truly as if you can see the lightbulbs going off. That's a great high; to know that you helped someone open that creative door to somewhere scary and exciting.
Any words of wisdom to share with budding entrepreneurs?
Don't forget why you started your venture in the first place. Your original goals are important. But what is equally important–and what I've learned the hard way as an artist–is that you started your business because you had a particular passion. Once your business is up and running, remember to do something every week to make sure you kindle that personal passion.

About Jill Pollack
Jill Pollack is the founder and director of StoryStudio Chicago: the center for writing and related arts, which serves more than 800 writers each year through classes and events. She is also the founder of the Chicago Literary Alliance and the author of Shirley Chisholm (Franklin Watts), named a Best Book by Science and Film Magazine; Lesbian and Gay Families: Redefining Parenting in America (Franklin Watts); and Women on the Hill, a history of women in Congress (Franklin Watts). Jill has earned her living through writing and teaching for more than 18 years.