Merchant Interview with Max Sinclair of Cocopotamus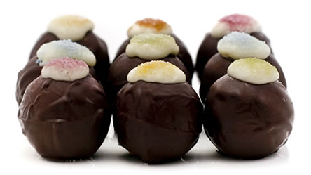 Merchant Interview with Max Sinclair of Cocopotamus
It's actually a little tortuous writing about Cocopotamus, because we start drooling just thinking about their artisan fudge inventions. Magical flavors like gourmet sea salt & dark chocolate, or cinnamon & chlli, let alone rose water infused chocolate fudge is our idea dessert nirvana. Cocopotamus is the delicious creation of passionate foodies Max and Ally Sinclair, who sought to honor and preserve America's contribution of fudge to culinary history by keeping the tradition alive. Their extreme makeover transformed the overly-sweet, sometimes dry, grainy slab into round truffles that are extra creamy, rich and celebrated with exotic and playful flavors. Their artisan approach that uses high-quality ingredients and creative flavor combinations has caught the eye of Whole Foods, Rachel Ray and even the Oscars and Golden Globes, where Cocopotamus fudge was given as celebrity gifts. Read on to learn more from their "Top Banana", Max Sinclair.
How did you get the idea to start Cocopotamus (and the idea for the great name)?
Our whole grand idea was to do something that'll help bring joy to people's lives. Chocolate happens to be the perfect medium to do that because it'll automatically bring a smile to most people. We wanted people to remember that joy is not some elusive quest. It's the everyday little things…like having a meal with the family, listening to a favorite song, and of course, eating chocolate. So we created a brand that's unlike your typical high-end chocolate company. Cocopotamus is fun, joyful, approachable, and unpretentious. The feeling begins with the name.
Our secondary mission is to, in our own small way, bring the world together. So we created flavors that represent many of the world cultures. Roise Posy from the Middle East, Cuppa Joe from Italy, Sumos Never Sleep from Japan, Ommm…from India, etc.. The idea is very subtle, but we think it works. The process is to take a dominant ingredient (or two) from a culture and infuse it in to our chocolate truffles and make the chocolate taste delicious. We hope to bridge gaps through the flavors of our chocolate.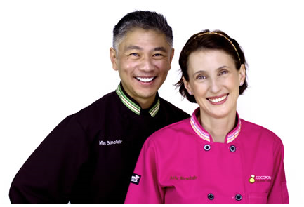 What effect have you seen Cocopotamus having on your community?
People really come together & enjoy the experience of tasting our world flavors. We're always so happy to hear stories from our customers about how Cocopotamus help bring joy to their day, became such a fun gift, or made a special occasion extra special. From family reunions to the fanciest weddings, we love to hear how Cocopotamus brings joy. Over the last two years, we've collected over a hundred stories from our customers. They emailed us or some even called us on the phone just to tell us how happy they were to have discovered Cocopotamus and how much joy they got from eating it. We've put a small collection of these customer stories in our Real People Real Stories section of our web site to share.
What is your favorite aspect of what you do?
We get to eat chocolate every day!!! Enough said. : )
Any words of wisdom to share with budding entrepreneurs?
Don't give up on your dream. Create something that genuinely comes from your heart and people will respond well to it.