Featured Merchant: Incredible Adventures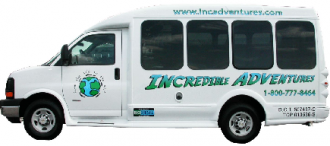 Featured Merchant: Incredible Adventures
We've had the incredible good fortune of working with Incredible Adventures for years now, and really appreciate all they do. As an outdoor travel company, they specialize in small group tours to natural and adventurous settings near San Francisco and Las Vegas. Since 1993, the company has been offering safe, reliable and fun-filled escapes to the great outdoors.
Owners Jolie Ginsburg and Brian Deninger have chosen to incorporate their values for sustainability and social responsibility into their work by focusing on small group tours to minimize their environmental impact, and they also support many local non-profit organizations with the contribution of silent auction support and in-kind donations of transportation.
Another thing we love about them is that they also use biodiesel! More than that, they go above and beyond through their co-sponsorship of the San Francisco Biofuels co-operative, which gives people local access to alternative fuel options. SF Biofuels works on educating the community and providing alternative fuel to community members. In fact, the co-op and Incredible Adventures helped the San Francisco Municipal Transit Agency (SFMTA) to implement a biodiesel program for their diesel buses!
To show your support for biofuels, enjoy the great outdoors while helping to keep it great and have your next incredible adventure, contact Incredible Adventures!