Green Guru Mindy Pennybacker urges us to "Do One Green Thing" (Part 1)
Green Guru Mindy Pennybacker urges us to "Do One Green Thing" (Part 1)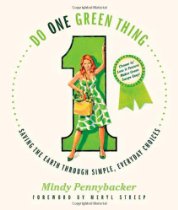 Dharma is always searching for additional ways to green our offices (and our lives!). Winning Green America's "Green Business Leader of the Year" award in 2009 reinforced our mission of expanding the ways in which we reduce our footprint and of supporting our broader community. We had the opportunity to do both last month when the San Francisco office of the Environmental Defense Fund (EDF) invited us to attend a moderated conversation hosted by Whole Living magazine. The guests: Whole Living columnist, author and green guru Mindy Pennybacker and San Francisco Department of the EnvironmentProgram Director Debbie Raphael. The goal: To share ways to limit the amount of toxic chemicals we consume and to provide feedback on how we can all get involved in creating change in our communities.
Mindy writes the "Ask Mindy" column in Whole Living magazine and has just released a new book titled Do One Green Thing, Saving the Earth Through Simple, Everyday Choices. Mindy came up with the title of the book during a conversation with a friend who was feeling overwhelmed with all of the choices she felt she had to make in order to reduce the influence of toxic chemicals in her families life. Mindy's advice? "Do one green thing. Once you have made that change, then do another. Soon you are well on the road to detoxifying your life." Most of Mindy's tips should come as no surprise to any self-respecting eco-warrior.
Here they are in reverse order:
10. Say no to bottled water and non-recyclable plastics.
9. Use compost and organic fertilizers in your garden.
8. Use green cleaning and personal care products.
7. Use a nontoxic sunblock.
6. Reduce runoff when washing your car.
5. Drive alone less, use public transportation, carpool, bike & walk more.
4. Properly inflate your tires.
3. Use propane/gas or natural charcoal to fire up the grill.
2. Turn off lights and avoid air conditioning.
1. Most importantly, join others in your community to TAKE ACTION!
This is just a short list of some basics. We would love to hear your favorite eco-tips. Please share them below in our comments section. Also, check in for part 2 of our post when Debbie Raphael shares with us the inspiring story of the San Francisco phthalates ban.