Green Festivals – Spring 2011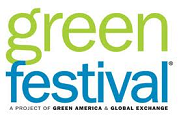 Green Festivals – Spring 2011
If it's spring it must be Green Festivals time! We love the sense of community, the inspiring speakers, the delicious food, the energy and the happening environment of these great events. At the April San Francisco Green Festival, we displayed a brand new exhibit that was sustainably provided by Greenerprinter.
As usual we made many new friends and got to see many of our existing merchants that were displaying their beautiful, sustainable products at the show.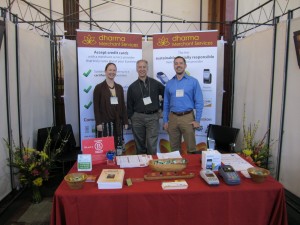 Big shout outs to:
We demonstrated our new iPhone solution and we offered copies of the book Sacred Commerce – Business as a Path of Awakening. We plan on attending several more Green Festivals in the future and we hope you plan on attending also. Please let us know about any Green Festivals in your area in the comments section below. See you there!
Photo: Dharma Office Manager Yebuny Johnson, Dharma President and Co-Founder Jeff Marcous and Trace Wendell, Dharma Accounts Manager in the Dharma Booth designed by Greenerprinter