Fraud Flags to Look Out For
Fraud Flags to Look Out For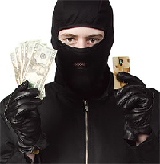 With the intention to help you process as successfully as possible, here are some fraud flags for you to look out for:
"Rush" orders
Orders shipped to an address that does not match the billing address
Large orders
Orders to be shipped outside the United States
Multiple sales made in a short period of time which appear to be indiscriminate purchases
In all of these cases, please contact the customer before shipping any products. If the order does not seem legitimate to you, do not ship and void or refund the transaction. Remember that customers can do a chargeback, for any reason, up to 6 months after the charge is processed. It is relatively impossible to win a chargeback case in a card-not-present environment, meaning you face losses due to reversed funds, unpaid products and chargeback fees.
If you process with Authorize.net, protect yourself by setting the Daily Velocity value and Card Code Verification rejection option under the "Security Settings" section under the "Account" menu in your Authorize.net Merchant Interface. You can also sign up for their Advanced Fraud Screening service directly from your Authorize.net account.
Lastly, please monitor your account on a regular basis. If you see irregular activity, such as 100's of transactions for small amounts which indicate automated testing of stolen credit card numbers, we can shut down your processing number temporarily to help you avoid being charged authorization fees for fraudulent transactions.