Featured Merchant: Voyager
Featured Merchant: Voyager
This month we're proud to feature Voyager, owned by successful entrepreneur Robert Patterson. We have the good fortune of working with Robert at two of his other ventures: Revolver and Ken Ken Ramen.
The Voyager Shop is a wonderful example of a growing theme in the conscious business world: collaboration. The shop is an artistic collaboration between San Francisco based Mollusk Surf Shop,Revolver, Spartan and Michael Rosenthal Art Gallery, which offers the opportunity to cooperate rather than compete in design, purpose and structure. Not only is the space Robert created innovative, the items unique-high-end and the staff friendly, the business model is one we admire for another reason: employees receive paid time off to utilize however they like.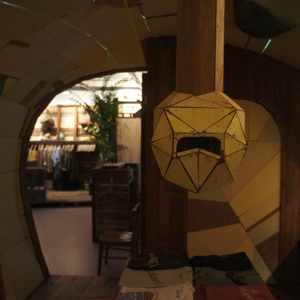 How did you get the idea to start Voyager (and the idea for the submarine)?
I've always wanted to do a collaborative concept retail space with several points of interest.
When the opportunity came up to partner with the Rosenthal Gallery to do an independent mixed retail space we couldn't pass on it. The submarine was Jay Nelson's / Mollusk's idea and was built in Jay's style. We thought the whole shop should feel like a little alternate island with the submarine being our mode of travel, the store our "home" and so on.
What effect have you seen Voyager having on your community?
While we cater to a global market of customers via our online store – our retail stores are rooted as neighbor general stores. We love seeing regular customers return and helping them with their needs. Some of our favorite customers sometimes just hangout in our shops and others times we help them with their needs. We've been lucky enough to help customers with choosing suits to meet President Obama to suggesting the perfect dress for an anniversary date. Being an independent retailer with interest in the community, we like becoming part of the lives of the city.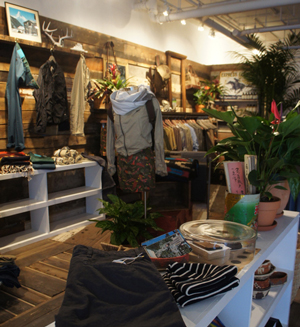 What is your favorite aspect of what you do?
Three fold. Our customers, our suppliers, and our staff.
We love customer service and really strive to help our customers find and make the best choices. It might sound corny but we really like when our customers return and we know them by their first names.
On the other end as a customer we love our suppliers and the effort they put into making unique goods and items from our the world. We know everyone we carry and strive to carry independent emerging crafts people from around the world.
Lastly we are so lucky to have a such an amazing staff. Everyone on the team is passionate and interested and gets along well. We are a very flat organization and everyone enjoys the contributions from everyone.
Any words of wisdom to share with budding entrepreneurs?
Just do it. If you have a passion and energy behind some idea or interest – everything else will become easy. Work becomes play and is very enjoyable.