Featured Merchant: Planting Justice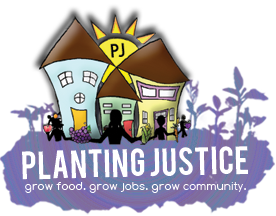 Featured Merchant: Planting Justice
Planting Justice is an income-generating non-profit that is creating green jobs in edible landscaping and grassroots organizing, while increasing access to healthy food, building community, and offering environmental education and green entrepreneurship in economically disadvantaged communities. Their urban food forest program produces low-cost, organic, nutritious food in communities that structurally have little access to it. They empower urban residents to create sustainable, replicable gardens that demonstrate how it is possible to grow a complete nutritional diet safely and profitably in the city.
Planting Justice also works with local schools on programs that build skills in critical thinking, community organizing, public speaking, ecological entrepreneurship, and permaculture design, empowering youths to change the way they identify with the food they consume and strengthen their collective power to affect structural change in their communities. They work with community groups like The Canal Alliance, a comprehensive community resource center that has been serving Marin's low-income immigrant populations since 1982, to build sustainable gardens. They are also working with the Insight Garden Program at San Quentin State Prison to provide inmates with job-training skills on urban permaculture and organic food production.
Their "Transform Your Yard" program turns empty space into abundant edible landscapes and living classrooms for homeowners, creates green jobs for local youth that train them for a future in permaculture design and urban farming, and subsidies edible gardens for low-income families. Check out the fascinating pictures that show the remarkable progress over time of turning a plain yard into a thriving food oasis, and imagine this at your house!