Featured Merchant: Hayes Valley Wellness
Featured Merchant: Hayes Valley Wellness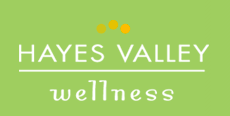 This month we're grateful to feature a beloved client who has done wonders for the health of our co-founders. Run by Dr. Matt Colman, Hayes Valley Wellness is an oasis of peace and attentive, personalized care in the bustling, hip neighborhood of Hayes Valley.
From the moment you are greeted with a warm welcome by their kind and professional staff to the time you leave feeling better than when you walked in, an appointment at Hayes Valley Wellness is always an experience in awakening and healing.
Dr. Colman combines his expertise in chiropractic care and whole food nutrition with Sacro Occipital Technique and Neuro Emotional Technique to treat his patients with a completely holistic approach. Rather than treat symptoms, his practice is about uncovering the root causes that create barriers to wellness and then identifying a path to maintain life-long health and success.
As regular patients, Jeff and Alexia can personally attest to the effectiveness of his treatments. They both credit his care for helping them maintain their good health. Also, in Alexia's case, Dr. Colman accurately diagnosed and successfully treated a life-long, painful condition that traditional western medicine was never able to address.
We're grateful to be working with him and even more grateful for Dr. Colman's incredible gift of healing.