Featured Merchant: Back to the Roots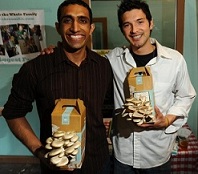 Featured Merchant: Back to the Roots
Back to the Roots was founded by Alejandro Velez & Nikhil Arora two months before they graduated from UC Berkeley in 2009. A chance mention of the notion that mushrooms could be grown from recycled coffee grounds sparked an interest in growing healthy food and creating local jobs from what was otherwise considered waste. With their first successful batch, interest from Whole Foods and a $5,000 grant from the UC Berkeley Chancellor for social innovation, they decided to forgoe their plans for investment banking careers to be full-time urban mushroom farmers!
They have grown rapidly, and are now in over 300 Whole Foods Markets across the country. Their products and company have received multiple awards, and have a number of incredible achievements in a very short period of time. Since 2009, they have
helped families grow over 135,000lbs of fresh food at home in 2011
sustained 10 urban school & community gardens by donating BTTRs premium soil amendment
created 14 green-collar, urban jobs in Oakland (and are currently hiring!)
set a pace to collect, divert & reuse an estimated 3.6 million lbs of coffee grounds from Peet's Coffee & Tea in 2012, reducing waste and the release of methane, a greenhouse gas about 25x worse than carbon dioxide for our environment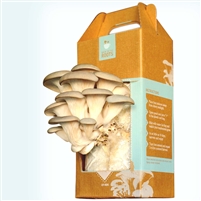 Besides creating access to healthy food and reducing waste, another thing we love about them is their committment to their community. They are constantly teaching "hands-on-sustainbility" workshops in classrooms across the country and hosting school tours for kids to visit their urban mushroom farm. They also have an ongoing "1-for-1" Facebook Campaign, where they donate a kit & sustainability curriculum to an elementary classroom of your choice for every posted picture with your fully grown kit.
Alejandro and Nikhil are also great guys! We've had the great opportunity to hear them at our local TEDx talk, and Alexia got the chance to have breakfast with them at the spring 2012 Social Venture Network conference. They are conscious business leaders who are humble, passionate and really funny, and we're so grateful for their well-deserved success and the chance to serve them.