Dharma Field Trip: IndieFest SF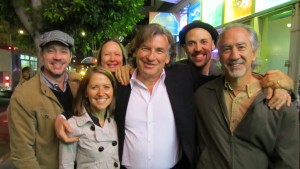 Dharma Field Trip: IndieFest SF
Our November 2010 field trip was a viewing of the amazing documentary, May I Be Frank, playing in San Francisco as part of the Roxie Theater's IndieFest.
The movie is an incredibly inspiring true story of Frank Ferrante's physical, personal and spiritual transformation that is motivated by, supported by and realized by love. We have the honor of providing the merchant services for the production company, and had the great fortune of meeting Frank after the movie, as well as directors/producers/friends Ryland Engelhart and Cary Mosier (unfortunately all the pictures with Cary came out blurry).
We all were blown away by the power, poignancy and professionalism of the movie, and bought DVD's to share with our friends and family. We highly recommend seeing the movie, or better yet, schedule a screening in your area to share this incredible testament to the power of love with your community.
Photo: Trace Wendell, Alexia Marcous, Yebuny Johnson, Frank Ferrante, Ryland Engelhart, Jeff Marcous.