Democracy Now's Amy Goodman Rallies SF GreenFest Attendees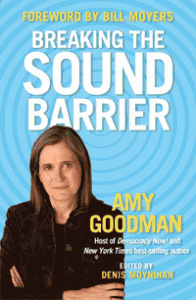 Democracy Now's Amy Goodman Rallies SF GreenFest Attendees
"And when you trust your television, what you get is what you got, cause when they own the information, oh, they can bend it all they want."
So sings John Mayer in his song "Waiting for the World to Change." Democracy Now! broadcast journalist, syndicated columnist, investigative reporter and author Amy Goodman drove his point home in a stirring speech at the San Francisco Green Festivalthis past weekend and Dharma was thrilled to be in attendance. Amy Goodman is an award-winning investigative journalist and host of "Democracy Now!" which airs on more than 800 public television and radio stations. She is the first journalist to receive the Right Livelihood Award, known as the "Alternative Nobel Peace Prize" for "developing an innovative model of truly independent grassroots political journalism that brings to millions of people the alternative voices that are often excluded by the mainstream media."
Amy has often found herself directly in the middle of news-worthy protests, covering the news from the ground level. She says the only way a reporter can get a true picture of what is going on is by directly talking to the women and men in the streets. This brave ( and dangerous) commitment to her craft has often placed Amy in harm's way. Amy was arrested while trying to locate two "Democracy Now!" producers on the streets of St. Paul, Minnesota during the 2008 Republican National Convention. You can see a video of her arrest here.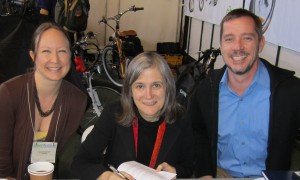 Amy urged Green Festival attendees to actively support independent news and independent journalists whenever possible. Her message: "How can we expect for-profit news channels to report accurate information about the environment, healthcare and the financial meltdown when their ad revenue may depend on them doing the exact opposite. How can we expect to hear accurate information about healthcare when the healthcare industry is paying millions for advertising. How can we expect to hear accurate information about the banking industry when they are paying millions for advertising to the very news networks who are supposed to be telling us the truth about them."
Amy will rerurn to San Francisco to speak at the New Living Expo on May 1. If you care about independent voices in our news media you wont want to miss this opportunity to hear Amy and to get a signed copy of her new book "Breaking The Sound Barrier." (We did!) To find out where Democracy Now! is broadcast in your area, click here.
Photo: Dharma employees Yebuny Johnson, Office Manager, and Trace Wendell, Accounts Manager, with Amy Goodman at the April 2011 SF Green Festival.