Celebrating the 10th Anniversary Green Festival
Celebrating the 10th Anniversary Green Festival
On November 12-13, Green America and Global Exchange hosted the 10th Anniversary Green Festival in San Francisco and Dharma was grateful to be there. We are always excited to see our conscious, sustainable community show up in force to network with each other.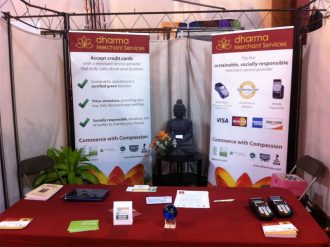 This year's event played host to speakers as diverse as perennial Green Festival favorite Amy Goodman from DEMOCRACY NOW and Frances Moore Lappefrom Food First and the Small Planet Institute. There were courses on how to break up with your Mega-Bank (and your mega-credit card processor!) to how to make sure your Thanksgiving is as Fair Trade as possible. We left this year's event with many new friends and tons of inspiration.
A big THANK YOU! to everyone who stopped by our booth to say hello and to express gratitude for the work we do. We wouldn't be here without you and we thank you for choosing to support us. And if you appreciate what we do and find it valuable to your business, we urge you to share your experiences with your friends. As we saw this weekend, our community grows stronger when we partner together. We hope to see you at next year's event!