Gift Credit Cards and AVS with Authorize.net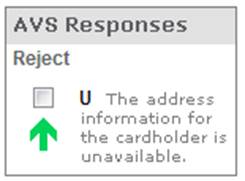 Gift Credit Cards and AVS with Authorize.net
Many gift credit cards (stored-value cards with a Visa, Mastercard, Discover or American Express logo) do not include a billing address on file at the issuing bank. As many shoppers love using these cards for their purchases, you may need to update your default Address Verification Service (AVS) filter settings in order to accept these transactions. If you do not, you may end up rejecting valid purchases.
To accept gift credit cards during and after this holiday season, please follow these steps:
Log into the Merchant Interface at https://account.authorize.net.
Click Account from the main toolbar.
Click Address Verification Service in the Security section.
Uncheck ONLY the checkbox labeled U – The address information for the cardholder is unavailable. Do not uncheck ALL of the AVS settings.(If you are using the Advanced Fraud Detection Suite (AFDS), then select a radio button to allow, allow and report the triggered filter, or authorize and hold for review all transactions that result in a U response code.)
Click Submit or Save.
This will help prevent the rejection of legitimate gift card purchases that do not have any available address information. All other regular credit and debit card purchases will still be processed according to the other AVS filter settings you've specified.