Amazon Watch and SBA host Benefit Concert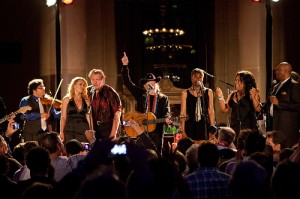 Amazon Watch and SBA host Benefit Concert
On July 22nd, Dharma was privileged to attend the Benefit Concert with Amazon Watch and the Sustainable Biodiesel Alliance (SBA) at the beautiful Bently Reserve in downtown San Francisco. This team-up was the first time that a rainforest protection organization and a bio-fuels organization worked together to raise money and awareness for a common cause. SBA's hope was that the benefit would "help educate the public on how supporting local, sustainable biodiesel production and using local renewable resources instead of feedstocks like international soy and palm can protect our planet's precious rain forests."
SBA sources community-based biodiesel and works with celebrity environmentalists and social activists like Willie Nelson (who performed for the event along with Sara Wassermanand others) to use biodiesel for tours and festivals as well as to educate fans about its benefits. SBA's chief mission is to ensure the U.S. is sustainable in our use of biodiesel. They create independent sustainability certification systems, educate the public, and provide tools to consumers and the biodiesel industry itself.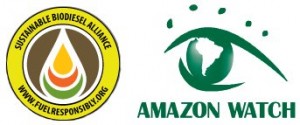 Unlike many environmental organizations, Amazon Watch actually partners with the indigenous people of the Amazon in their fight against deforestation, sickness, and death caused by oil drilling and other harmful enterprises threatening their ecosystem and way of life. Currently Amazon Watch is working with the Achuar (an indigenous tribe who call the Amazon home) to petition Chevron to acknowledge the damage caused by oil spills and to take responsibility for cleaning up Ecuador; to stop the drilling of oil; and to prevent the Brazilian government from damning the Amazon rainforest.
On a personal note, Dharma enjoyed meeting the collection of vendors, like the beautifulVilla Creek Winery in Paso Robles who donated some delicious wine for the auction that night.
We look forward to seeing this collaboration continue between these two amazing organizations. Dharma is grateful to be the merchant services provider for Amazon Watch and even prouder to have taken action and joined the cause ourselves. Please join us for their annual luncheon on September 27th.
Dharma is also doing our part in our daily lives to combat the use of oil and promote the preservation of the rainforest. Read about our green initiatives here. What are some of the ways you are taking action?